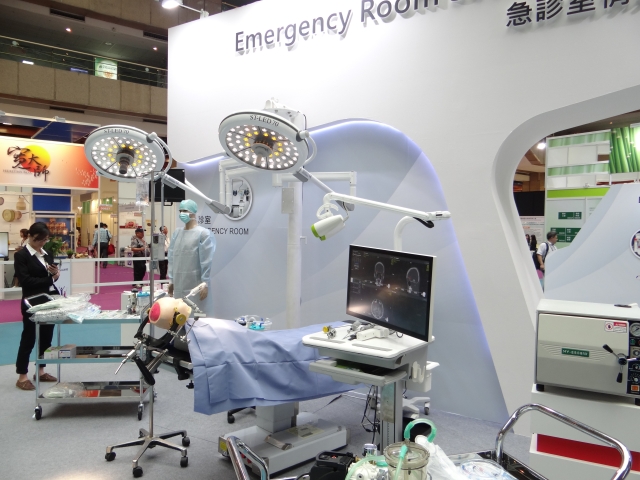 Emergency Room Scenario Station was highlighted with a line of Taiwan`s homegrown EMS products on display in arrangements as seen in a real-world emergency department.
The 2018 MEDICARE TAIWAN and SenCARE, running from June 21 through 24 in TWTC Exhibition Hall 1, received accolades from visitors attending from all over the world for the widely varied exhibits and interesting event program offered.
Among the offerings, "Emergency Room Scenario Station" created an even bigger buzz and remained a hit with professional buyers during the four-day span of the trade fairs.
The first-ever offering by MEDICARE TAIWAN, "Emergency Room Scenario Station" was an exquisitely designed pavilion that contains several themed exhibition areas decorated like a real-world treatment room, operating room, waiting room and other workplaces in the emergency care department of a hospital.
Compelling space design besides, the pavilion was highlighted with a total of 75 different types of EMS (emergency medical service) products and devices on display, which are developed respectively from 24 Taiwanese suppliers and were laid out in the areas according to their corresponding functionality in a systematic arrangement as seen in the emergency department setting.
By showcasing the locally made EMS products through the emergency department simulation, the pavilion aimed to promote the sector in Taiwan, which boasts a well integrated supply chain and capably offers effective, affordable one-stop shopping services tailored to foreign customers, particularly to those from emerging countries in Southeast Asia, where infrastructure of local healthcare delivery systems has been developing relatively rapid over the past few years.