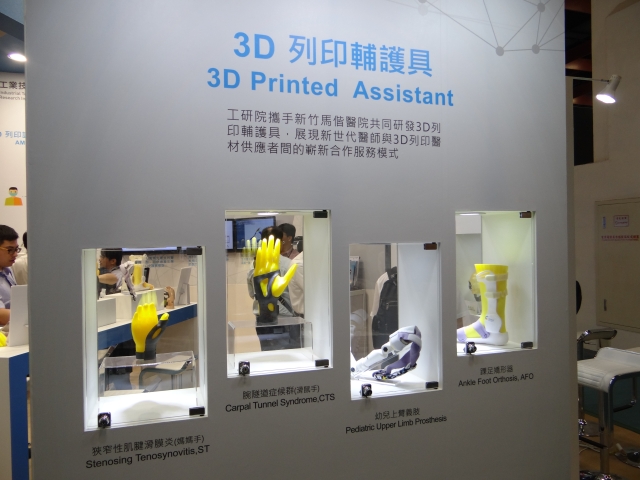 ITRI showcased a variety of 3D-printed assistive products for patients with different symptoms and conditions at the trade fair.
In view of 3D printing widely applied in manufacturing activities and expected to bring new opportunities to Taiwan's healthcare industry, Industrial Technology Research Institute (ITRI) took the wraps off its "AM as a Service" along with a variety of 3D printed medical assistive products and supports developed via the platform at this year's MEDICARE TAIWAN and SenCARE, running from June 21 through 24 in TWTC Exhibition Hall 1.
"AM (additive manufacturing) as a Service" is a cloud platform that capably connects to computers, 3D scanners and 3D printers for data transmission and is designed to facilitate joint R&D of new products to be manufactured with 3D printing. Developed by ITRI with its know-how, the platform capably offers 3D scanning, prototyping and AM process designing and planning services.
Furthermore, the cloud platform allows professionals, like a physiatrist or an orthopedist, to provide advice and feedback to manufacturers whenever those are necessary during an R&D and production process, so as to make sure optimally engineered, customized assistive products and supports can be developed as required and rolled out without a glitch.
As products of the platform, a slate of 3D printed assistive devices and supports on display at ITRI's booth that were customized in cooperation with Mackay Memorial Hospital for patients with stenosing tenosynovitis, carpal tunnel syndrome, ankle foot orthosis and pediatric upper limb prosthesis turned head at the trade fair. It is safe to day that the materialization of these products has set a model for cooperation between 3D printed assistive products suppliers and doctors of new generations.
Noteworthy is that ITRI also introduced its Factory of Intelligent Additive Manufacturing Medical Devices, which is scheduled to become operational in Kaohsiung Science Park and obtain an ISO-13485:2016 certificate by the end of 2018. The factory is believed to accelerate the development of 3D printing in Taiwan's medical device sector.