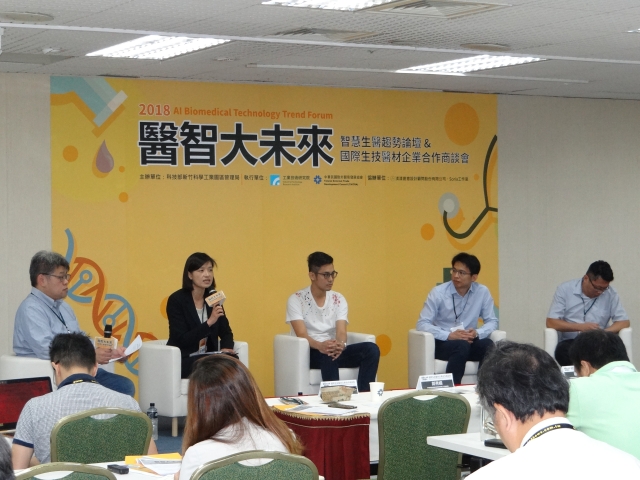 The 2018 AI Biomedical Technology Trend Forum witnessed interactive discussions centering around opportunities and challenges encountered by Taiwanese medical service providers applying AI in operations.
The second day of the 2018 MEDICARE TAIWAN and SenCARE, held June 21-24, was wrapped up with the same satisfactory results as seen on the first day, given the continued influx of visitors and buyers into the venue, who also crowded the second floor of TWTC Exhibition Hall 1, where a host of enlightening, informational seminars and forums were held. In that logic, among the most popular event was definitely "2018 AI Biomedical Technology Trend Forum."
Organized by HSC (Hsinchu Science Park) Administration and sponsored by Taiwan External Trade Development Council, organizer of the trade fairs, the forum provided interactive discussions revolving around the application of AI (artificial intelligence) in healthcare between the participants and panelists, who were experts invited from a venture capitalist, AI company, medical device firm and hospital. The forum aimed to inspire more startups to ride the wave.
Considering that development of AI technology goes hand in hand with big data analytics, the panelists generally opine that Taiwan's healthcare industry has lots of unparalleled merits for development of AI application
The panelists said that a striking example is the local well-developed healthcare ecosystem coupled with the government-linked national health insurance system. A combination of the two factors has resulted in an incredibly considerable amount of medical data built over the past two decades. The large quality, not to mention the quality and reliability, makes the data sourced from governmental units invaluable to AI system developers.
However, as with great opportunity usually comes great challenge, the panelists mentioned that the biggest obstacle getting in the way for AI into the healthcare sector is the regulations and laws regarding personal data protection.
The experts pointed out other challenges including a general lack of knowledge about information technologies among traditional insiders in the sector, and their tendency to rely on old-fashioned skills during service providing. They stressed that all the problems call for considerable time and effort by the government and corresponding parties to address.