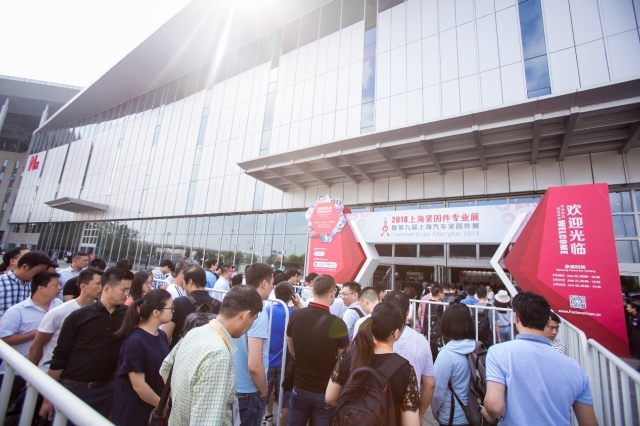 Source: ITG Group
"Fastener Expo Shanghai 2018 Shanghai Fasteners Exhibition & the 9th Shanghai Auto Fasteners Exhibition", as one of the top three fastener exhibitions in the world, which are organized by ITE (Asia) Exhibition Co., Ltd. and Shanghai Ebseek Exhibition Co., Ltd., has gained the overwhelming success at the National Convention and Exhibition Center during June 20th -22th, 2018.
The exhibition has been attracted a lot attention after 9-year cultivation. This year, the event has opened two halls to visitors, which are based on the theme "Advanced Manufacturing", "High-tech Materials" and "Close-to-End Terminals". To meet the needs of the downstream industry and also spurs continuous innovation of the fastener industry, the exhibition area has been expanded to nearly 60,000 square meters for more than 600 exhibitors to present their all kinds of most up-to-date scientific technology. It is reported by official statistics, this three-day-exhibition this year has attracted a total of 28,359 professional visitors from home and abroad, which is outnumbered comparing with the same period last year, leading to a hot on-site scene. It is obvious to say this exhibition would be a real gathering of the global fastener industry indeed.
Combined with the latest international policies、regulations、hot topics in the industry and practical technology applications, etc., the exhibition has met the visitors' needs to understand the most cutting-edged information and technology exchanges.
Meanwhile, the organizer has held elaborately over 20 meetings, which including high-end forums, professional seminars, exhibitor technical symposiums, and face-to-face international procurement matchmaking, just to improve a better interaction between exhibitors and the visitors, covering various high-end fasteners practical technic fields, such as new energy vehicles, aerospace, rail transportation equipment, marine engineering equipment, wind turbines, etc.
In addition, the "Face-to-Face Match-making Fair" is co-organized by the 2018 Shanghai Ebseek Exhibition Co., Ltd and China.Fasterner.com, has also won the unanimous approval of exhibitors and visitors. This fair is aiming to build up an efficient and productive cooperation platform for exhibitors and visitors. According to statistics, there are nearly 30 international buyers and more than 150 suppliers attending the event, for example, some famous companies like Bossard, Würth, Reyher, and quite a few international buyers from Russia, Brazil,Spain,Thailand,Malaysia,have been attending too. All their purchase order have covered wires, bolt forming machines, nut tapping machines, packaging machines, hot forging machines, tungsten carbide molds, self-drilling screws, welding nuts, tooth bars, bolts, plugs, including in fastener industry wire, equipment, molds, standard parts and non-standard ones. The amount and quantity of merchandise purchased are also very surprising. Suppliers are all looking forward to participant next year event, which happen to be the 10th anniversary.
By the end of June 2018, there are 55% exhibitors in this year have been rebooking their booths next year. Now nearly 60% booth has been booked, which can be seen as a symbol of authority and brand loyalty among fastener industry. Since next year is a very important milestone, the organizer will continually strengthen trade and cooperation, brand cultivation, channels broaden between the Chinese and foreign fastener industry, to make a greater contribution to comprehensively promote the overall development of the global fastener trade.
The next edition of the trade fair will take place on June 26 through 28, 2019.