Campro Precision Machinery Co., Ltd. is promoting the CPV and CPV-B series CNC vertical machining centers, which can process a rough workpiece with onestep procedure, turning out a finished product without using polishing or grinding machines.

Occupying less than three square meters in footprint, the CPV series is specifically developed for
3C-components (consumer electronics, computer and communications-components) processing. The series comes in 550-millimenter, 750-millimeter, 900-millimeter, 1,100-millimeter and 1,300-millimeter models in terms of X-axis travel.

In contrast to lightweight workpieces that the CPV series is designed for, the CPV-B series is developed
for heavy-duty processing of components for cars, motorcycles, molds (tooling), aircraft, and medical
equipment with its all-square guideway structure. X-axis travel of the series ranges from 850mm, 1,100mm, 1,200mm, 1,400mm to 1,600mm depending on the model.

Being designed for heavy-duty, the CPV-B series turns spindle at the slower speed of 6,000-8,000 RPM
to generate higher torque force. X/Y/Z-axis travel range 20mm X 20mm X 20mm, 20mm X 20mm X 15mm, 15mm X 15mm X 15mm to 15mm X 15mm X 125mm, respectively, depending on the model.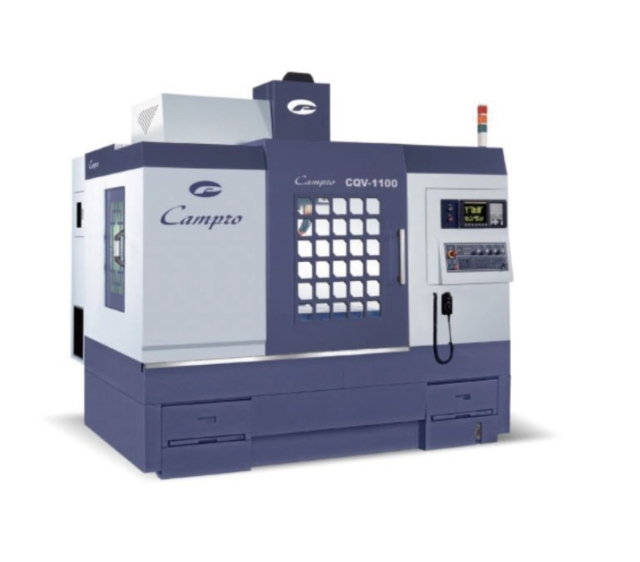 Campro Precision Machinery Co., Ltd.
Tel: 886-4-2350-0501
Fax: 886-4-2350-0213
E-mail: sales@campro.com.tw
Website: www.campro.com.tw