Plastic Sheet & Film Calendering Machine, Corona-discharge Plastic Surface, Plastic Finishing Machine, Surface Treatment
Ever since founded in 1977, Feng Tien Electronic Co., Ltd. has been engaged in production of plastic surface electronic processors and static eliminators, it can target special difficult PE, PP, PET, PS films, paper, and relatively difficult plating films and PP, PS, PE , PET sheet to do effective discharge treatment, according to various plastic machinery design.

Following over 40 years of development, Feng Tien Electronic has achieved well-honed production capability and successful product diversification, to satisfy customers worldwide with fine quality and speedy delivery, as well as business integrity.

Custom samples , specifications and blueprints are welcome.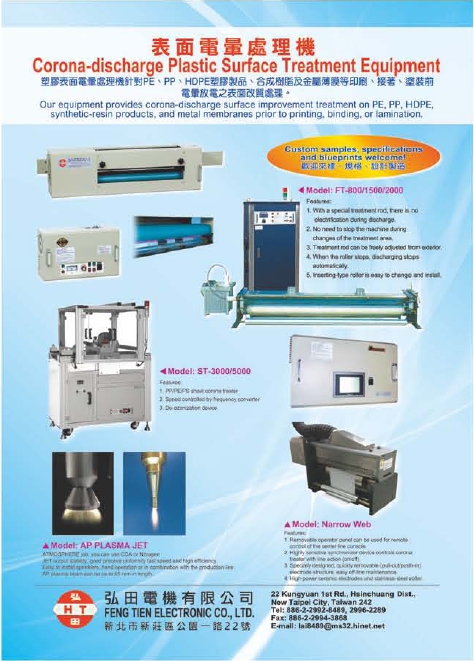 FENG TIEN ELECTRONIC CO., LTD.
Tel: 886-2-2992-8489
Fax: 886-2-2994-3868
E-mail: lai8489@ms32.hinet.net
Website: www.cens.com/fengtien