A company in Chongqing is the large enterprise specialized in producing automotive light accessories, which employs multiple sets of large IMMs to use in auto light production. Based on the production process, the mold temperature controller is required to stabilize the mold temperature for quality improvement. After deep discussion with the customer, we preliminarily recommended the STM-910WF "Large Flow"Water Heater to the customer, but we have improved some parts of the machine in accordance with the actual demands and upgraded the model to STM-910WFN, satisfying the customers' needs for the personalized product.

Main Features
The P.I.D temperature control system can maintain stable mold temperature, and the control accuracy also can reach ±0.50C; High-performance vertical multistage centrifugal water pump can meet the demand of large flow, and whole water circulation pipe is made of stainless steel that prevents circulating water pollution, and it can reach the max. temperature of 1200C. Moreover, the RS485 communication interface it equipped to achieve interconnection with most machines for convenient centralized monitoring.

This Water Heater has been used in the factory for a long time, and its stable and reliable performance can fully satisfy the customer's demands.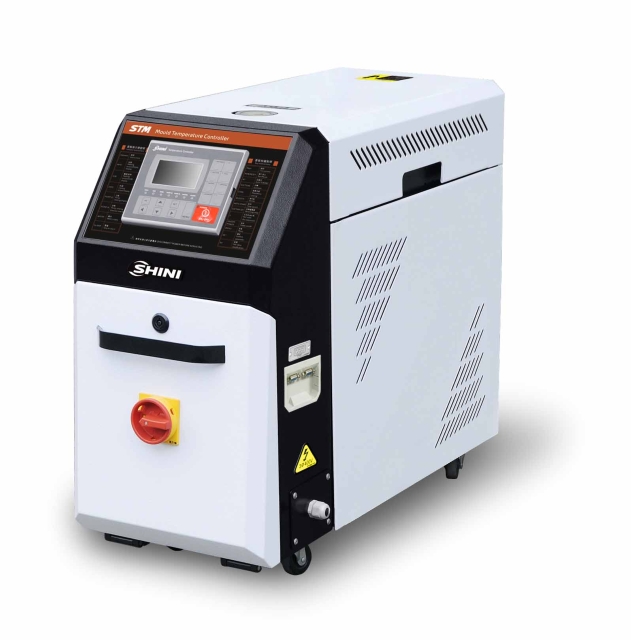 Shini Plastics Technologies, Inc.
No. 23, Minhe St., Shulin City, Taipei Hsien, Taiwan 238
Tel:886-2-2680-9119
Fax:886-2-2680-9229
E-Mail:shini@shini.com
Website: www.shini.com