Since its establishment in 1960, Ye I Machinery Factory Co., Ltd. has worked on plastic extrusion machines and related equipment as a veteran maker.

Ye I's product mix encompasses PP/HDPE/LLDPE/LDEP mono-layer and multi-layers tubular blown film making machines, all kinds of plastic recycling machines, PVC pipe, casting PP/PE film making machines, PMMA/PS/ABS/PC/PP/PE sheeting machines, and a variety of turn-key extrusion machines.

Over the past half century, the seasoned manufacturer has consistently focused on R&D and talent cultivation, sharpening its competitive edge with industry-leading technologies and an R&D department staffed with experts skilled in machinery, control systems, and materials processing.

To blow away the competition, the company has beefed up its plastic recycling machines with a
combination of shredders, extruders, and pelletizers for handling a wide range of plastics, as well as hydraulic cylinder type screen changers that allow screens to be changed without having to shut down the machines.

Meanwhile, Ye I has continuously improved its quality standards and quality control measurement, which involves each worker in QC process from incoming material inspection and in-process checking through predelivery inspection.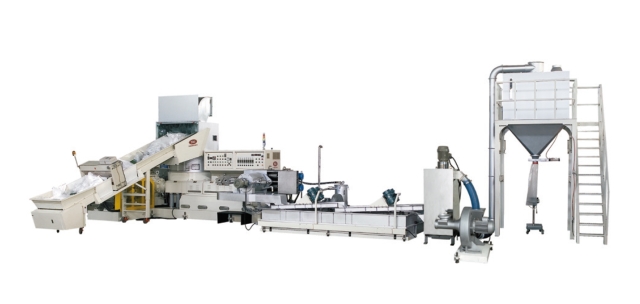 Ye I Machinery Factory Co., Ltd.
No. 6, Mindong Rd., Yongkang Dist., Tainan City,Taiwan
Tel: 886-6-253-6066 ~ 9
Fax: 886-6-254-3717
E-mail: service@yei.com.tw
Website: www.yei.com.tw