Founded in 1983, Kae Dih Enterprise Co., Ltd. is an ISO 9001-certified developer and manufacturer of wet/dry vacuum cleaners, industrial vacuum cleaners, dedicated vacuum cleaners and electric random orbital sanders, direct electric random orbital sander.

After gaining solid foothold in the global vacuum-cleaner market, Kae Dih tapped its strong R&D capability to successfully diversify its extensive catalog into high-end electric sander business, with the sanders marketed under its own "JESON" brand.

Kae Dih's central-vacuum electric random orbital sander is a high-profile product and its 5.0mm or 2.5mm orbital action and 150mm &125 mm backing pad combine to make it a unique, versatile machine packed with features.

This compact, lightweight sander is built with a super-quiet, 220V-240V brushless, 9-speeds DC motor (2000-10000R.P.M.). The optimized ergonomics of the sander enables comfortable grip and easy to use, while the low center of gravity achieves labor saving and stability. Also adding extra value to the product are easy maintenance, high efficiency and the smooth central vacuum hood.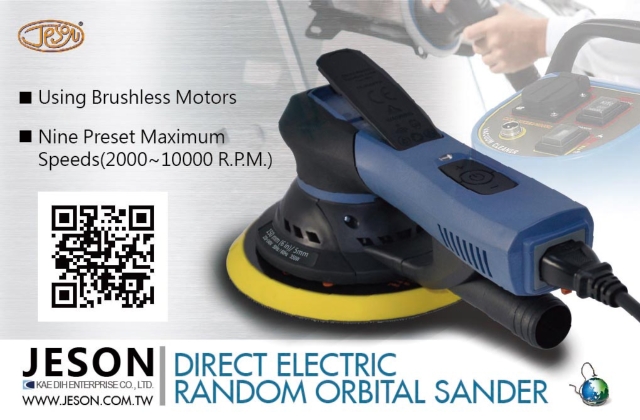 Kae Dih Enterprise Co., Ltd.
No. 357, Sec.1,ChengGong Rd., Puyen Twonship, Changhua
County, Taiwan 516
Tele:886-4-865-5545
Fax:886-4-865-5471
EMail: sales@kaedih.com.tw
WebSite: www.jeson.com.tw; www.cens.com/kaedih