Founded in 1966, Chuan Li Fah(CLF) Machinery Works Co., Ltd. specializes in producing various plasticinjection molding machines. It is acompany with vast experience and stable operation. CLF-branded machinery has long been globally renowned for its high performance and reasonable price.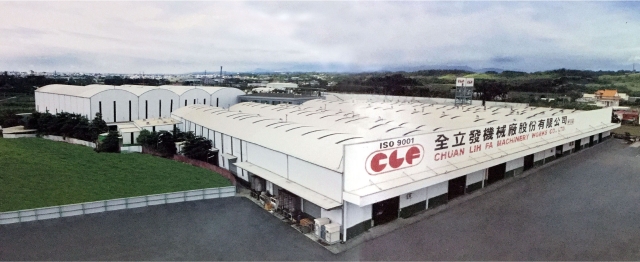 Wu Zhi-zhe, Manager of Research and Development Engineering Department of CLF, said that the company's leading position is attributed to a strong R&D team of more than 20 experts. Its outstanding research and development and technica level are in line with the major players in advanced industrial countries, and its customization capabilities are incomparable.
On the other hand, CLF's strongest capabilities are providing "comprehensives olutions with thehighest cost -effectiveness" for customers around theworld. The price of CLF's solution is onlyabout half that of similar products made inGermany or Japan, but its performance isbetter or more suitable for the customer'scustomization requirements. This is reallya great deal for our clients!

CLF successfully developed double and three-circuit plastic injection moldingmachines, hydraulic servo-controlled fullclosed-loop highspeed injection moldingmachines, and two-color/two-materialand a three-color/three-material injectionmolding machines. The complete series ofplastic injection machines with capacitiesranging from 60 to 5,000 tons is focusedon high-volume, best-selling models.According to introductions, the companyprovides about 600 machines per year tocustomers around the world, and a largepart of them are large-capacity models.
At present, CLF has three factories in Taiwan (with a total factory area of about55,000 square meters and more than230 employees). There is one factory inmainland China (with an area of 68,000square meters and about 100 employees).
The company has advanced equipment, 50 years of rich manufacturing experience,sophisticated production equipment, strictproduction procedures, and high-qualitystaff.
The company has internal engineerin gcapabilities in large critical mechanicalparts. It invests heavily in large processingequipment (including fi ve Toshiba fl oatingboring centers, and three five-axismachining centers) to accurately controlprocessing quality, and ensure on-timedelivery. It is the leading manufacturerof plastic injection molding in Asia.In addition, customized services canfully satisfy customers' various needsin production. For example, CLF hasdefeated many competitors in industriallyadvanced countries, and successfullydeveloped the model with three injectionmolding and three plates mold. This is a pioneering achievement in the industry. In addition, CLF is also an important supplierof machinery and equipment for leadingTaiwanese auto parts makers, such asTong Yang Group.
Wu Zhi-zhe further stated that CLF proudly launched the TWII series ofexternal toggle type plastic injectionmolding machines in 2015, which wonmultiple awards at various trade shows.TWII series external toggle type fi x moldswith the smallest mold deformation,accurate flatness, and super long moldmovement distance. Its increased crosssectionalarea of the connecting rodgreatly improved the mechanical strength.The highly rigid machine structureminimizes deformation while maintainingproduct accuracy. It's suitable for productsrequiring surface accuracy and is suitablefor products with deeper depth.
Chuan Lih Fa Machinery Works Co., Ltd.
No. 17, Lane 360, Chungcheng S. Rd., Yungkang Dist., Tainan City 710, Taiwan
Tel:886-6-253-2111
Fax:886-6-253-3311
E-Mail:clf@clf.com.tw
Website: www.clf.com.tw