Founded in 1996, Chau Yih Shin Co. "microntec" has been providing customized components in deep hole drill machining in Taiwan skilled more 20 years.

Guided by customers'needs, microntec is committed to improving service quality and continuously developing smart manufacturing to create multifunctional deep hole drilling machine with milling and tapping head function with high efficiency, high rigidity and stability.

"microntec" offers the machining services and consulting for the global deep hole drilling industry, including in-house installation and online repair services.

Microntec not only has long cultivated the Taiwan market but also serves customers across the globe spanning five continents.

With the increased complexity of the processing process, the development of CNC deep-hole drilling machine has been focused on automation and the integration of drilling, milling, and tapping in high precision and added value. In addition, in order to shorten the processing time for customers and increase productivity, microntec provides multi-spindle drilling heads so as to save manpower, the characteristics of drilling, milling, and tapping, and an increase in processing precision.

With the trend of developments, microntec will strive to nurture talents, import systems, inspect the company' s competitiveness, and strengthening its structure in future industries, IoT, and industrial revolution without fear of outside challenge. The company will accelerate the development of new generation products, end low price competition, and open up a brand new precision processing era.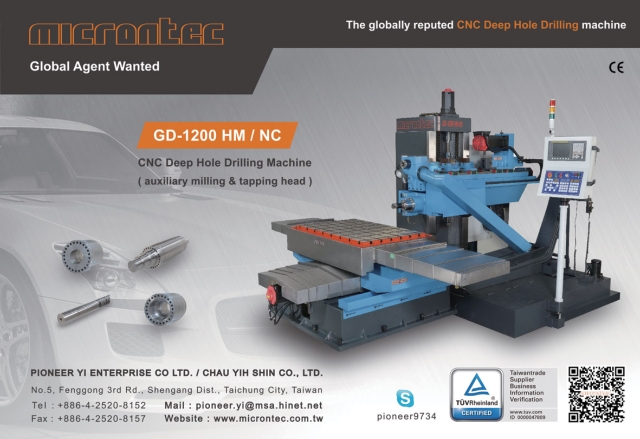 Pioneer Yi Enterprise Co., Ltd.
Chau Yih Shin Co., Ltd.
Tel: 886-4-2520-8152
Fax: 886-4-2520-8157
E-mail: pioneer.yi@msa.hinet.net
Website:www.microntec.com.tw