Frankfurt-Having concentrated on fasteners and hand tools for over 40 years, Infar Industrial Co., Ltd. is able to produce over 20 million high-quality wrenches each year, thanks to its quality R&D team and full production chain. With both quality and quantity under its belt, Infar is renowned globally as a benchmark company for hand wrench tools.

Infar primarily focuses on producing wrenches for car maintenance and industrial-grade tools. Its brand "INFAR" is marketed globally, offering OEM and ODM services for clients, including products like composite wrench, double-open-ended wrenches, dual ratchet wrenches, ratchet wrenches, gourd handles and tool sets. Products are all certified with ISO 9001, Germany's VPA/GS certification, as well as conforming to the U.S. ANSI hand tool certification standards. Infar currently markets to Europe, the U.S., Australia, Japan, China and Southeast Asia.

Infar General Manager Chen Tai-Tso said at this year's show, they are concentrating on general-application tools, usually applied to DIY vehicle repairing. Clients can be informed of the production process entirely to ensure product quality and shipment date. Infar maintains its own fully-operated in-house production chain, from raw steel material, forging, machining, thermal treatment, grinding, sandblasting, vibration, metal surface treatment (plating), packaging and shipment. Such a production model is the main foundation of the long-term cooperation and trust built on between Infar and clients for over the past decade.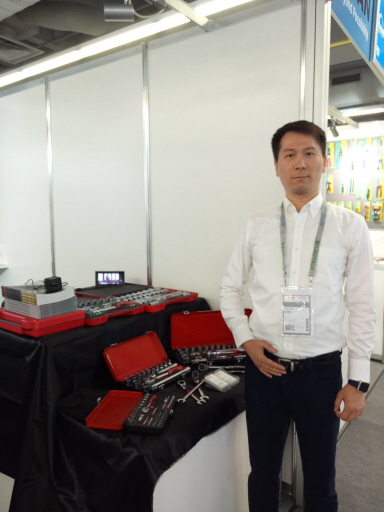 Infar General Manager Chen Tai-Tso said this year they are focusing on offering general tools that can also be applied to DIY vehicle repairing. (photo courtesy of Lisa Kuo)