Taipei - In the age of AIoT, companies may be wondering how they are able to do business in a digitalized age that gears towards big data analysis, especially among small-and-medium enterprises, where funding and scale are factors that put them against bigger companies with larger resource pools.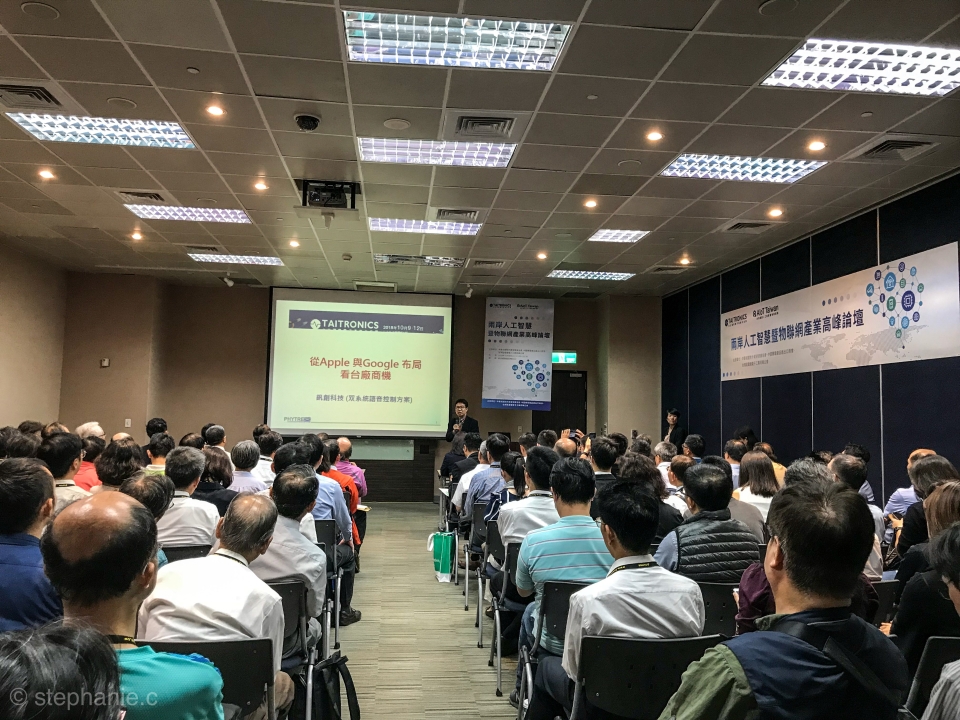 Listeners attended the Cross-Straits Artificial Intelligence & IoT Industry Seminar at 2018 TAITRONICS on Oct. 9. (photographed by CENS.com)
AIoT Taiwan is the main theme at 2018 TAITRONICS, which kicked off on Oct. 9 to Oct. 12, and aside from the main event on the show grounds, there are peripheral seminars on the side, including the "Cross-Straits Artificial Intelligence & IoT Industry Seminar."
Speakers at the seminars spoke of their own companies' products and how they were able to do business in an industry that increasingly needs to integrate not only hardware prowess, but software, AI and Big Data.
For example, Phytrex, a MFi solution provider, continues to focus on mobile security and banking payment applications, but at the same time now carries its HomeKit solutions for turnkey projects and Wi-Fi modules to sensor package/SIP/WLCSP and finished goods.
Much of their core technology offers solutions for companies who wish to join the HomeKit ecosystem and build their own IoT-related accessories. What they offer may look simple enough, however, it is a niche market that Phytrex believed would be able to do the most business and take the most advantage of.
Their advice for SMEs looking for an angle to carve out for their own in the AIot industry? Look closely at what giants, like Apple and Google, are doing and start from there.
Smart Applications and Future of Self-Driving Cars
Many of the speakers have suggested that Taiwan's opportunity in the AI and AIoT industry lies in smart cameras.
Chimei Motor General Manager Hsu Hsueh-hsien said much of the cameras in the future would be smart cameras and what Taiwan could do and now doing at present, is to roll out smart capable cameras with edge algorithm enabled, allowing the cameras to remove its reliance on cloud-based databases to feed into its algorithm learning. He revealed that as early as Q1 next year, a smart camera the size of a fingertip designed by a Taiwanese company will be released.
Chimei Motor offers smart solutions to the automotive industry; Hsu added that this weekend, Nissan will roll out their newest passenger vehicle, which operates on Chimei Motor's smart system.
"While Taiwan brands does assembly foreign vehicles, the most core and important technology like self-driving systems will only be developed within their headquarters," Hsu said.
Despite Taiwan's late start in the industry and smaller scope, especially in the red ocean industry that is Internet AI, Industrial Technology Research Institute International Industry Department Research Manager Alex Hou says domestic companies can consider two directions when investing in AI in their respective industries.
One of them is data allocation of real-life information through sensor chips like smart camera. The other is investing into edge algorithm, allowing the company to not rely on cloud-based big data and algorithms, but be able to access such data even with no internet connection, allowing instant connection and analysis.