Taipei - With government plans to postpone announcing frequency spectrums for 5th generation mobile network (5G) until 2020, renewed interest in how Taiwan mobile network operators and the industry will proceed was ignited as the island's top regulator National Communications Commission called their updated plans a move as a "smarter follower."

Rather than charging ahead of the pack, the Taiwanese government looks to be taking cautious steps as like many counterparts around the world, mobile network operators do not have the luxury to invest millions into 5G as they had done with 4G, as the playing field is entirely different.

Currently, South Korea, Japan, China and the U.S. are the leading countries in the pursuit of 5G technology and applications; South Korea is expected to kick off commercial use as early as next year, while Japan and China's plans point to 2020, with the former aiming to use 5G during the Tokyo Olympics.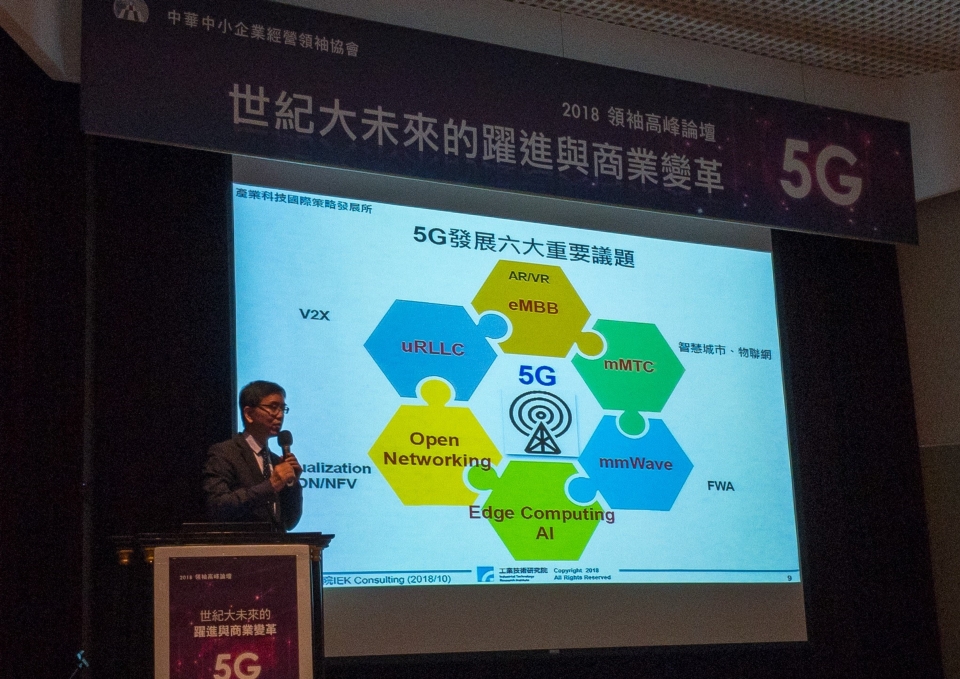 Industrial Technology Research Institute industry analyst Alex Su offers suggestions for Taiwan companies in the 5G era. (photographed by CENS.com)
Two industry experts offered at a seminar regarding the technology, what they believe industry members could work towards to in regards to 5G technology and how they can prepare for it.
As Taiwan's leading telecom provider, Chunghua Telecom's 5G expert Chen Chiung-chang said what's different with the experiences in 3G/4G era, 5G network providers must be able to work with companies from different industries, like healthcare, finance or transportation, as the 5G experience primarily focuses on "applications."
In smart healthcare industries, 5G could be applied to monitor life signs, high-definition image and video for consulting usage for long-distance diagnosis.
5G boasts faster speeds compared to 4G era, enabling certain technologies that faced connective problems to reach further heights, for example, VR, AR, Big Data and most definitely, video streaming.
Smart, self-driving vehicles have been named by both experts the one field that would benefit from 5G speed the most, especially should edge computing become added into the equation. Self-driving vehicles, for its capabilities to become fully enabled, would fully benefit from 5G speed as it could update its database fast to monitor and adjust speeds and such on the go, Chen said.
Industrial Technology Research Institute industry analyst Alex Su suggested that while Taiwan will not be at the forefront in the industry, industry members should instead, look to what kind of niche markets to focus upon: developing 5G chips or antennas; private 5G network solutions for enterprise applications in closed networks, like department stores, factories, stadiums and others or doing that above, but through working with international brands to increase exposure and reach into bigger markets.
Another field to tap into for potential collaboration is the open source community, as Su believes Taiwanese companies could be more open to working with the community in terms of hardware and software development as an alternative way to enter the global supply chain.
One of the industry trends that Su forecasts is how the target market and audience in 4G era towards consumers will move to enterprise-focused applications.
Both experts believe, as mentioned before, that network providers must move away from the traditional mindset to solely providing connection services, and instead, work with different industries that would know how to apply the 5G technology for consumers.