Joiner Fastener Enterprise Co., Ltd. is a Taiwanese screw manufacturing company, known for its strict monitoring and quality control for its products.

The company manufactures various screws for chipboard, tapping, self-drilling, concrete, machinery, special parts and etc. To meet customer's requirements, Joiner Fastener employs strict quality control criteria and aggressive price strategies to prove its competence in the industry and to satisfy its valuable clients.

As a specialized screw manufacturer in Taiwan, Joiner Fastener has acquired ISO 9001:2008(Cert. TW08/00578) and ISO 14000: 2004(Cert. EMS551523) certification. The company operates precise QC instruments and screw sorting machines, coming in roller, optical and laser types are all available, to meet clients' request and expectations for low defect rate. This focus on supplying superior quality screws is based on the understanding that such parts are essential to construction, automobile field and more.

Joiner Fastener is a valued, trusted manufacture to deliver products with timely delivery throughout the entire process.

Nowadays, Joiner Fastener is looking to extend its business scope, production capability, flexibility and efficiency to provide maximum support for clients in the future. For any business inquiries, please email kayano@joiner-fastener.com.tw.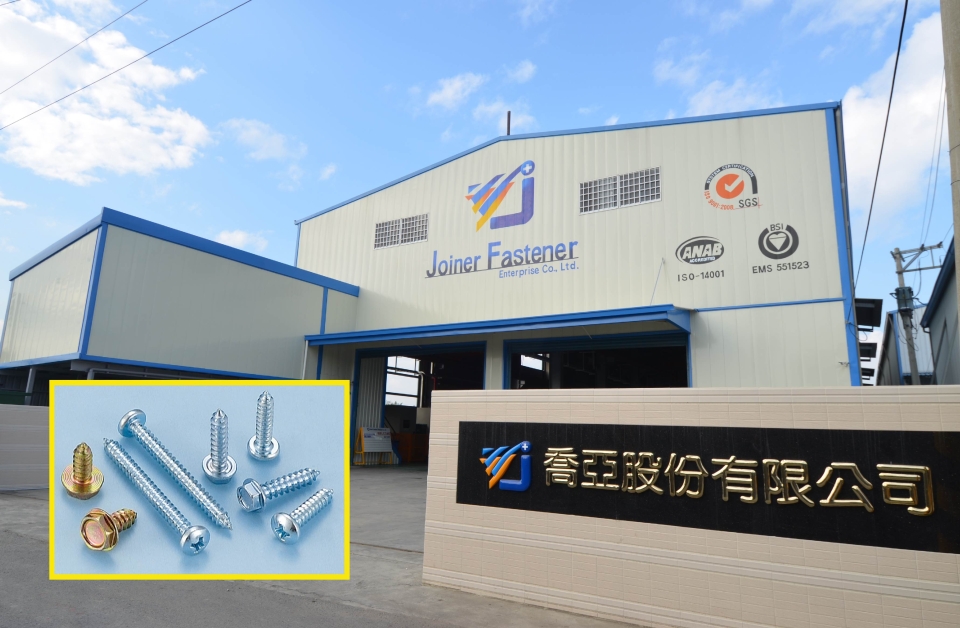 The factory exterior of Joiner Fastener Enterprise Co., Ltd. and its products are shown here. (photo courtesy of Joiner Fastener Enterprise)