elebrated bicycle chain manufacturer KMC welcomed its 40th anniversary this year and took the opportunity to launch a new brand logo, an infinite chain loop, and the slogan "Link to Perfection," reinforcing it commitment create the best chains and chain-related products in the world.

As a leader of bicycle chain industry, KMC has always kept a pulse on the market and its trends. Using big data of production-marketing integration and expert market analyses, to see what the future development would be before it realizes. Before the trend that 12-speed Bike started happening in the market, KMC had already developed the X12 to meet its anticipated boom in demand for 12-speed Bike chains. This year, KMC also launched its eBike sprockets. Also, KMC's DLC (diamond-last coating) chain series changed new package to match its high-end impression.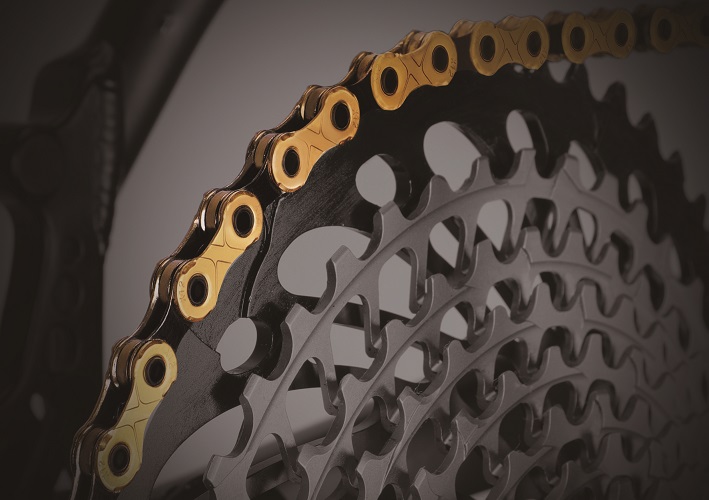 X12-A5
KMC X12: One Chain For All. The luxury 12-speed chain.
The new 12-speed drivetrain revolutionized bicycle chains. Cassette sprocket sizes exploded from 10 inches to 50 inches. The quantity of cog teeth grew and the space between sprockets shrunk dramatically, challenging the traditional bicycle chain design. KMC's R&D team came up with a solution that enables a faster and smoother shifting experience by redesigning the link with four asymmetrical, intelligent bevel chamfers. Together with the proprietary double X Bridge system on the inside, the chain loads and unloads smoothly and safely. By precise adjustment, X12 is perfectly compatible with the 12-speed drive system.
The eBike Sprocket. Specially designed for the eBike.
Seeing that e-Bikes were becoming a major trend in Europe and quickly expanding globally, KMC developed a series of sprockets for e-Bikes utilizing Bosch, Shimano, and NuVinci/Enviolo transmissions. According to the motor or hub interface, KMC has developed different sprockets to perfectly fit renowned e-Bike brands. The sprocket tooth and chain-seat are designed to complement KMC's e-Bike chain which effectively increases drivetrain efficiency and enhances chain life. Precision beveling on cogs has allowed precise loading of KMC's eBike chains, thereby cutting down wear and tear, increasing durability and allowing for a smoother, more enjoyable ride. The e101 EPT eBike chain has a pin power of 450 kgf, diamond durability, tensile strength of 1050 kgf and is equipped with environmentally friendly rust protection. Pairing KMC's sprockets with KMC's e-Bike chain, such as the e101 EPT chain, KMC guarantees that the chain will last over 10,000 miles. With 40 years of experience and precision craftsmanship, KMC is confident that the eBike chain and sprocket together is the perfect combination.
Artisanal Beauty and Craftsmanship. DLC Black Diamond Color Coated Chain.
DLC Black diamond color coated chains are developed for pro and demanding riders who wanted both performance and unique aesthetics. After three coating processes, the final is a TiCN-coating plating, a process found in the making of precision timepieces. This creates a chain with professional level hardness, upgraded smoothness, anti-abrasiveness and rust-fighting capability. The level of hardness of DLC chain can last as diamond, allowing riders to ride with the distance as far as industry standard for 3 times, yet retaining its lightweight and durable advantages. Together with Double X Bridge and intelligent chamfering tech on the both sides provide high efficiency quickly and safely, no matter on the road, on the trail or in the city.
The idea behind the DLC series is to provide riders feel fast and cool at the same time, so performance and aesthetics were equally important in the designing process. Bright and impressive options to the black diamond base color with red, yellow, blue and green. Meeting requirements of performance and style, this is the best choice of bicycle chain for pro and champion teams around the world.
New and Improved Packaging.
KMC's new attractive packaging utilizes a recyclable PP material box making it more eco-friendly. Products are easily recognizable via conspicuous model name and instructional display. KMC also divides the type of bicycle rider by color –navy blue and light blue are suitable for professional riders; light blue and white are designed for leisure riders. The updated Extra Tool packaging with green and light blue also expresses the fresh image of KMC's new brand logo.
The new packaging is not only design to accentuate KMC's new brand image, but also for practical reasons such as achieving product standardization for bicycle manufacturers to save cost and storage space. Furthermore, the new packaging is sturdy and unique where both the chain and MissingLink are clearly displayed in the transparent PP box for immediate recognition.
KMC researches and develops products to raise the quality and therefore enjoyment of cycling while considering the environmental impact of all of its products. KMC's focus accentuates the company's ideology: Link to Perfection. For the last 40 years and for 40 years more, KMC will ceaselessly innovate to set new industry benchmarks and pursue perfection.