Taiwan's machinery exports could see a 5% to 10% growth next year, said Taiwan Association of Machinery Industry Chairman Alex Ko, despite growing U.S.-China trade tensions.

Ko, speaking at a Central Taiwan membership association meeting on Wednesday, cited declining fertility rates and automation as both irreversible global trends that are also influencing the local market, though held out a positive note for Taiwan's machinery exports next year.

Taiwan's exhibitors at Japan International Machine Tool Fair and Taiwan International Machine Tool Show, which both recently wrapped up, reported good results, Ko added. Next year's Taipei International Machine Tool Show in March is also slated to be the biggest in recent years, he said, offering that next year's expectations were "conservative but hopeful" for good business.

Ko admitted that much of those expectations were still up in the air. Also, the situation is also up to the results of the G20 Summit at the end of this month, where the U.S. President Trump and Chinese President Xi Jinping would meet and see whether the two leaders could resolve the trade tensions.

As long as talks between Xi and Trump bear fruitful results, Ko said the market will definitely respond positively. Though, he still named two issues that the industry is concerned about: the U.S.-China trade war and China's investigation of Taiwan's machine tool makers over allegations of dumping.

Fourth quarter will not yield results, the chairman said due to the trade tensions. The association has already lowered Taiwan's export growth forecast for this year, from the original figures of 10% between 15% and now to 7% between 10%. According to customs' figures, Taiwan's machinery export value amounted to USD$22.8 billion from January to October this year; this signaled a year-on-year growth of 9.9% compared to last year, however, compared to the growth first six months' (15.9%), it Taiwan's exports have already dipped below 10%.

Ko reported that October's exports valued at USD$2.28 billion, signaling a year-on-year growth of only 2.7%. Despite the decline, he stressed that there was still a chance that exports will turn around and reach USD$100 billion.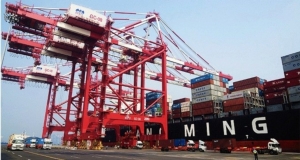 UDN File Photo