With the rise of the "unmanned economy" in China, new trends in the self-pickup market like the "smart shelf" are giving way to the "smart locker," which has combined Internet of Things and AI technology.

Chinese e-commerce JoyBuy Go has built a reputation based on its embracement of unmanned economy, its "smart shelf" that was introduced to the public last November has seen an upgrade to "smart lockers." E-commerce rivals like Alibaba and Midea Group have also rolled out their own versions last December.

While its predecessor "smart shelves" targeted working environments and served in an open-environment for consumers to grab their purchases off the shelves and pay using their smartphones, smart lockers work in a closed environment, letting consumers open the locker doors by having the system scan their faces, choose their purchases and paying automatically.
Smart lockers also come in "hot" and "cold" models, allowing consumers to buy warm or cold food and beverages as well.

Tencent Director of Cloud Products Chen LIang described the typical smart locker similar to refrigerators in the everyday household. Tencent's own smart lockers have consumers sign up on their platform, upload their own photos and after authorizing the consumers' identity, they would be able to open smart lockers by scanning their faces.

Consumers pick their goods through image recognition technology. Using a number of identity-recognition technology, the system will automatically deduct money from the consumers' WeChat, AliPay or other cloud-payment platforms.
The smart locker and self-pickup market is deeply competitive: HahaLinShou has already developed its third generation of smart lockers, equipping it with image recognition technology that can scan and recognize over 1,000 products with success rate at 99.17%. Improvement have been made also, making the production costs of a smart locker to only the thousands in Yuan, vastly lower than the traditional vending machines that could cost on average 20,000 Yuan to make.

BangMart, another e-commerce platform, has equipped their own version of smart lockers with not only image recognition technology, but also weight sensors that allow the system to recognize what kind of products a consumer has chosen based on the goods' weight.

According Chinese consulting agency ASKCI Consulting Co.'s 2017 report on China's unmanned economy, it figures the market volume would reach 1.8 trillion Yuan by 2022.

New Location in Beijing Subway
Smart lockers have entered Beijing Subway November last year, making the transportation hub the newest battlefield in the e-commerce market. Recognized as the latest trend to replace vending machines, public transportation hubs are viewed as the next frontier aside from commercial buildings for smart lockers.

Beijing Business Today reports that with smart lockers moving into Beijing Subway, providers like "Magic Box" are placed beside traditional vending machines, selling snacks like pies, chips, ham and sausages. Consumers won't need to take out change but only pay through scanning codes to open up the smart locker.

Compared to Shanghai and Hangzhou, where unmanned economy has grown, Beijing's recent embrace of the technology has been slow and more on the conservative side. Beijing government agencies have only recently allowed convenience chain stores to set up shop in the transportation hub this October.

Smart lockers, with its compact size and relatively low costs, were viewed as the perfect choice by companies to move into Beijing Subway.

Beijing Commerce Economy Academy deputy head Lai Yang said for most young consumers, being able to make convenient purchases at transportation hubs is critical.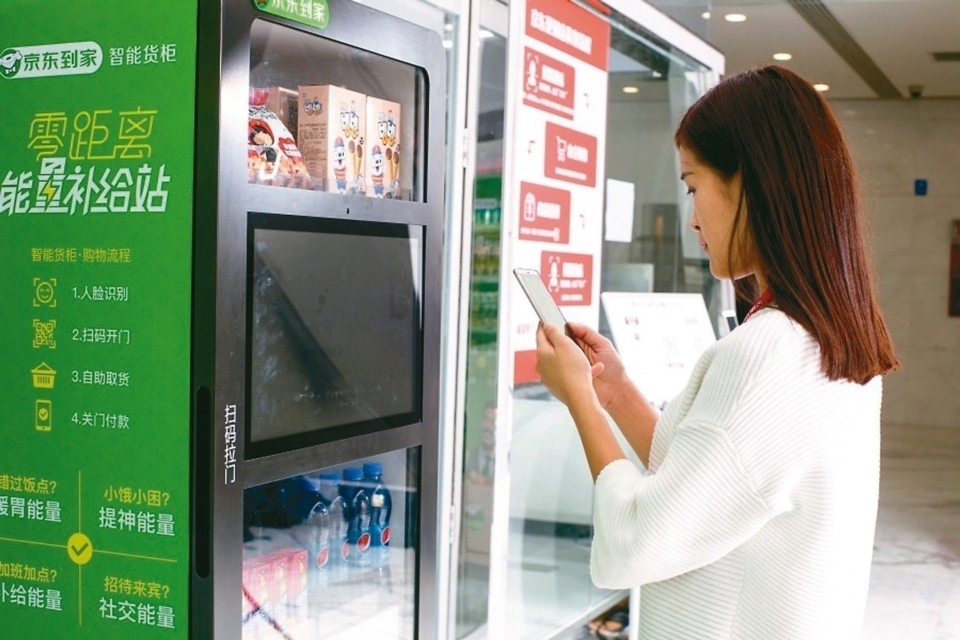 A consumer uses a JoyBuy smart locker. (photo taken from China Business Network)