Taiwan's machinery equipment export figures for last year showed an accumulation of US$27.4 billion worth of exports and signaling a 7.2% annual growth rate, according to a report released by Taiwan Association of Machinery Industry (TAMI) on Monday. While the report indicates a new-high of yearly growth, however, due to trade tensions between China and the U.S., it was still just half the original forecast offered by the association last January at 15%.

TAMI Chairman Alex Ko said the overall market attitude has been on the fence due to the uncertainty prompted by the trade tensions between the world's two leading economic powerhouses, China and the U.S., leading to less orders coming in for machinery equipment.

In terms of this year's industry growth, Ko expects 2019 to continue the trend as a low-growth year but likely to see the industry warming up in the latter half. Annual export growth is forecasted between 5% to 10% only, he added.

The domestic machinery industry passed the trillion mark in 2017 in terms of gross output value, reaching NT$1.1 trillion and an annual growth rate of 11%. TAMI originally forecasted that the industry could continue its momentum and reach 10% year, however, last year's 7.2% still saw NT$80 billion-worth increase to the gross

In terms of Taiwanese dollars, last year's export figures for domestic machinery equipment equaled to NT$82.57 billion, a 6.1% annual growth. More importantly is how in December only, exports reached US$2.45 billion, signaling a 19.5% month-on-month increase and 1.6% annual growth, making it a record high in the last seventh months and exceeding industry expectations. In regards to the sudden surge, industry watchers view it as companies trying to get their goods out before the tariff regulations came into effect due to the trade war.

Aside from the trade tensions, Taiwan's industry attitude leaned towards the pessimistic due to China's investigations over anti-dumping on Taiwanese makers of vertical machining centers, Ko added. Under such a climate, he advises companies to consider quickly upgrade their business operations to smart production and smart machinery.

The U.S.-China trade war has led to a market that is less proactive, Hiwin Technologies Corp. Chairman Cho Yung-tsai said, estimating that the attitude will prevail until around mid-year and resume a steady depletion of inventories. Cho also offered that business upgrades, including moving production chains to Southeast Asia, starting from July last year, will likely to see results around late this year.

Many companies opted to take a step back when the trade war first began to boil over, Fair Friend Group Chairman Jimmy Chu said. Now that businesses are aware that the trade war will not see a concreate resolution any time soon, they have begun taking steps to move on with their strategies and investments. Similarly, he expects the market to make a rebound in the latter half of 2019.

Despite the pessimism prompted by the trade war, domestic suppliers of tool machineries and parts still reported raking in decent revenue last year, though still held onto a more conservative attitude towards this year's earnings. Hiwin is such a company that is more reserved about its forecast this year: the machine-making company reported earning NT$29.388 billion last year, a new record-high for them, but failing to hit the NT$30 billion mark as forecasted.

Other companies show similar reservations in announcing a big-win for this year: Goodway Machine Corp. raked in around NT$8.2 billion in combined revenue last year and estimates to hit NT$8.5 billion this year, while AWEA reported NT$4.8 billion in earnings last year but expects to rake in NT$5 billion this year.

TAMI will be collaborating with Chunghwa Telecom, Institute for Information Industry and Industrial Technology Research Institute Information and Communications Research Laboratories to roll out a "Machinery Cloud" cloud platform, allowing more industries to increase their competitive edge through a plethora of App platforms to employ.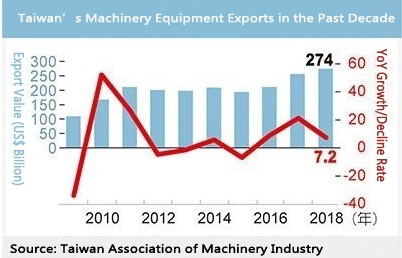 Economic Daily News report
News source:
CENS