Alex Ko, the chairman of Taiwan Association of Machinery Industry, has made an announcement yesterday (February 19th), stating that there will be 1,230 exhibitors using 7,000 booths in total in TIMTOS 2019 starting on March 4th once Hall 2 of Taipei Nangang Exhibition Center is ready for using. With nearly 30% of the growth comparing to the previous show, the scale has boomed to another new record, grasping potential orders possibly hitting 2 billion US dollars.

Mr. Ko emphasized that when considering the number of booths, TIMTOS has officially surpassed both China International Machine Tool Show (CIMT) and Japan International Machine Tool Fair (JIMTOF); only falling behind the two current leaders of machine tool shows worldwide, the EMO Hannover and International Manufacturing Technology Show (IMTS), TIMTOS has become the third greatest globally.

Additionally, Mr. Ko also indicated that although the ambience of buyers staying on the sidelines has grown stronger due to the China-United States trade war, the demand for establishing a second production base overseas is maturing, too. Additionally, Mr. Ko predicted that potential orders at TIMTOS 2019 would rise above 2 billion US dollars (approximately 61.6 billion TWD).

As Hall 2 of Taipei Nangang Exhibition Center, projected for a long time and completed for using this year, Taipei International Machine Tool Show has become the first international fair hosted here, making its scale bigger than ever. Moreover, according to Mr. Ko, there were originally 10,500 applications this time, with more than 3,000 of them eliminated eventually.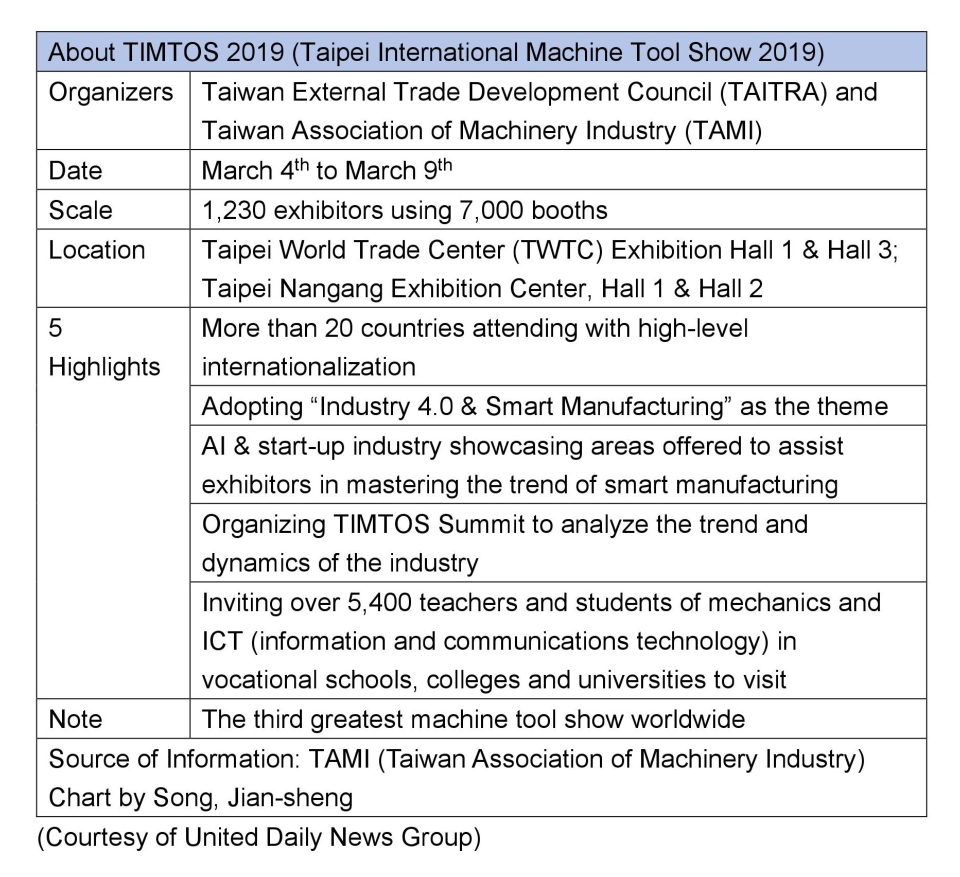 The theme this year is "Industry 4.0 & Smart Manufacturing", attracting all elite exhibitors attending; in order to recruit talents, TAMI has further invited totally roughly 5,400 vocational school and college students majoring in precision machinery and ICT (information and communications technology) island-wide to visit as well.
With the constant growth of machinery industries in Taiwan, the goal of one trillion output value was achieved for the first time in 2017, reaching 1.1 trillion. Furthermore, the value of exports in the machinery industry last year was 27.4 billion USD, equaling to the annual growth of 7.2%; the output value, on the other hand, has increased approximately 80 billion and reached 1.18 trillion, suggesting the growth of 7.3%, creating a new record afterwards.
When taking a glance into this year, Mr. Ko declared directly that the China-United States trade war, as well as the exchange rates between USD and NTD are the two main unpredictable aspects; at the same time, the economy this year is estimated to "crouch before leaping", suggesting a better second half of the year comparing to the first one. For the machinery industry, the growth is estimated to be 5% to 10%; and the annual growth of exports of machine tools should be about 5%. Comparing to the previous year, the tendency turns to carefulness and prudence.
According to Mr. Ko, potential business possibilities have sprung owing to the China-United States trade war; a plenty of enterprises thus have the needs for establishing a second production base in other places but China, suggesting that the manufacturing plants might be migrated to emerging markets like Vietnam or India; hence, said possibilities are worthy of expecting.