Southern Taiwan's biggest expo "Kaohsiung Industrial Automation Exhibition 2019" (KIAE) entered its second day over the weekend. Coupled with favorable weather, crowds of waiting visitors were already seen outside the venue before opening hours, crowding the show grounds throughout the entire day. Reports indicate visitor numbers exceeding 10,000 people in a single day alone, prompting exhibitors to report back positive businesses.

This is the main hosting organization Economic Daily News' (EDN) six consecutive year of hosting KIAE, where thousands of booths were exhibited at Kaohsiung Exhibition Center. Aside from KIAE, the event was held consecutively with Kaohsiung Chemtech and Instruments Expo (KIICE), making the scale of the entire event bigger than ever, as well as cementing both as the industry's best networking platform.

KIAE was able to attract over 30,000 visitors last year, creating the most profitable year with orders amounting at NT$1.2 billion. Companies have showed optimism regarding this year's promotional effectiveness; this is magnified with Kaohsiung City Mayor Han Kuo-yu's platform to boost the city's economy, which has attracted exhibitors from not only central and northern Taiwan, but also from countries like Japan, Germany, the U.S., China, South Korea and Austria. Each special exhibiting area boasted attractive, innovative technology that propelled products to the spotlight.

In consideration of industry trends like Industry 4.0 and smart manufacturing, many exhibitors had chose to display equipment including smart monitoring systems, smart robots, collaborative robots, robotic arms for automated welding. Among those exhibitors, Beijing's megvii, which set up Alibaba's Tmall smart supermarket logistics system, had expressed confidence in Kaohsiung's potential by exhibiting at the show, with the aim to upgrade the industry through artificial intelligence.

Also, Taiwan's organizations like the Metal Industries Research and Development Centre and academic institution National Kaohsiung University of Science and Technology were at the show, showcasing their research results, patents and offering on-site consulting services and technology networking channels. These services were provided in hopes of transferring the patented tech into the private sector. This is buoyed by Kaohsiung's role as a major hub for the metals industry, as well as NKUST's own research center for developing metal products: NKUST is the only Taiwanese university awarded with the AS9001D aerospace industry quality certification, which would help upgrade the local metals industry by introducing suppliers to producing aerospace-use parts.

KIAE has created and cultivated a strong brand both domestically and internationally, boasting exhibition tours among enterprises, organizations and academic institutions. These enterprises include Advanced International Multitech Co. Ltd, Gang Gwo Industrial, Innolux Corporation, Karma Medical and Long Sheng Precision, whose tour groups made up of employees from their technological and procurement departments to seek the newest tech, equipment and manufacturing on show grounds. Tour groups from academic institutions, on the other hand, include Kaohsiung City Labor Bureau Employment Training Center, National Pingtung University of Science and Technology, Southern Taiwan University of Science and Technology and the R.O.C. Military Academy Department of Electrical Engineering, which allowed students to become acquainted with the newest tech trends and see for themselves the industry that they would likely enter in the future.

KIAE 2019 included special exhibition areas for Machine Tools, Industrial Machinery, Parts and Components, Automatic Testing, Intelligent Machinery(Robots), Consortiums, Aerospace & Defense Technology and Metal Technology, Joint Association of Hardware of Kaohsiung, Taiwan Welding Society and NKUST. For KIICE, areas like the Chemical Engineering Equipment Area, Instrument Area, Environmental and Industrial Safety Area, Plastics, Rubber & Composites Area, Petrochemical Industry Chain Area, Innovation, Research and New Technologies Area, as well as Kaohsiung Instrument Association boasted exhibiting booths. The scale this year was especially unprecedented: over 400 exhibitors were on display, using up approximately 1,000 booths.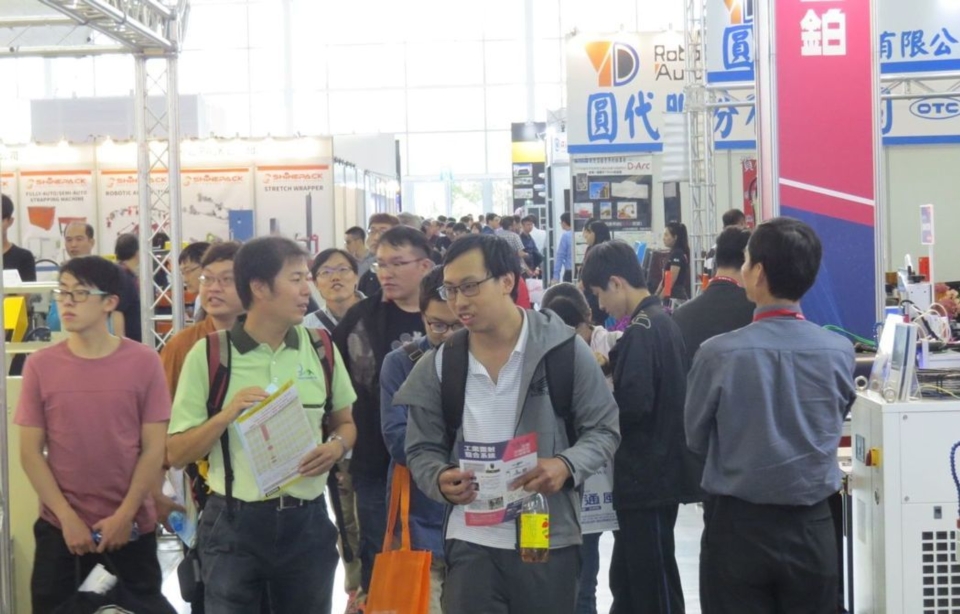 Southern Taiwan's biggest trade show Kaohsiung Industrial Automation Exhibition 2019 boasts a strong reputation in Taiwan and abroad, attracting crowds of visitors over the weekend. (Photo taken by EDN)