Research centers born out of collaboration between academic institutions and private companies are becoming more integrated in the medical field thanks to thriving new technology like 3D printing and artificial intelligence applications. China Medical University Hospital's (CMUH) created the AI Center for Medical Diagnosis and eventually Ever Fortune AI Company; Asia University, Georgia Institute of Technology to engage in multidisciplinary projects and Aurora Group to establish Ever Young BioDimension through technology transfer, are examples of the trend.

The collaboration with Aurora Group has enabled Ever Young BioDimension to produce entire materials, delivery supply chain and turnkey solutions for 3D printing medical devices and services, and delivering such products into areas in healthcare around the world, specifically surgical devices, medical software/hardware, and physician training of dentistry, orthopedics, rehabilitation, plastic surgery and neurosurgery applications.

photo provided by China Medical University Hospital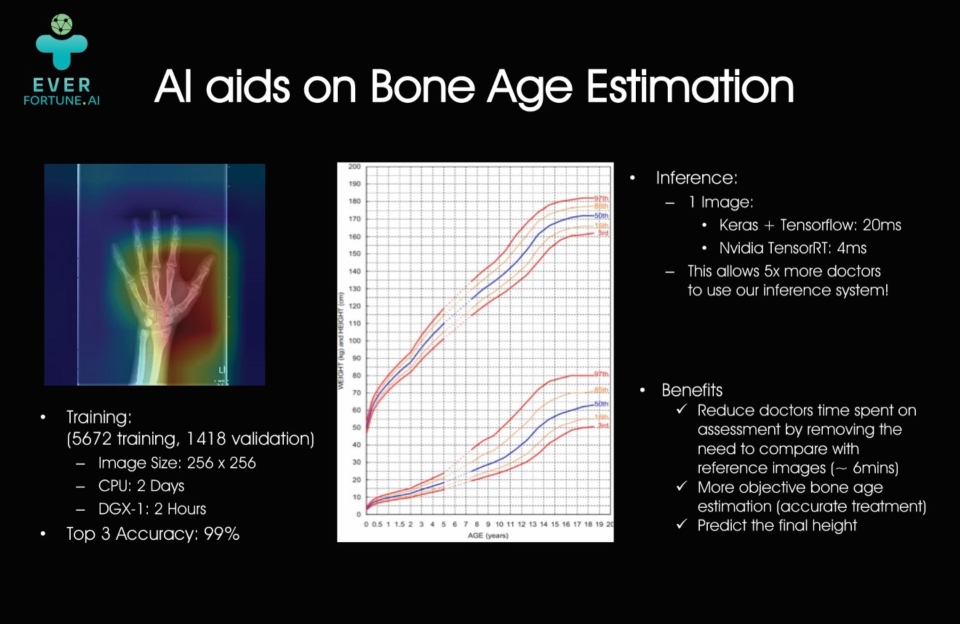 photo provided by China Medical University Hospital
Backed with a comprehensive production chain, Ever Young BioDimension is on track to become an advanced, globally-connected solution provider and offer 3DP medical professional training platform in the Asia-Pacific area.
CMUH AI Center Director Wu Ya-luen says by pairing up their AI systems with physicians for AI-assisted diagnosis for increasingly accurate diagnosis of medical image applications, such as x-ray bone aging interpretation, breast ultrasound tumor classification and detection, and liver fibrosis assessment through blood sample.
Working together with Ever Fortune AI, Wu pointed out that AI-assisted diagnosis work is aimed to not replace clinical physicians but lessen the workload placed on them on a daily basis, which would affect the quality of their diagnosis. The Ever Fortune AI team has worked closely with partners, taking in physicians' experience, molding the vast big data into the AI and rolling out AI with impeccable diagnosis accuracy through deep learning. Contrary to most services out there, Wu pointed out that the team works closely with physicians to train the AI according to the physician's needs, specifically the field where they would want the best assistance.
While Taiwan's laws for medical-focused new technology like AI are not yet comprehensive, Wu emphasized that much work is going on in the background and they hope to become one of the first companies to launch their product in the industry, and hopefully, at the show, make connections with companies from legalized countries.