Kaohsiung Chang Gung Memorial Hospital (CGMH), founded in 1986, continues to uphold high standards for the medical field in Taiwan for over 30 years, having been named by the Ministry of Health and Welfare as a top medical center. The hospital boasts 81 clinics and secondary clinics, and sees an average of 7,600 patients each day.

Among their specialized clinics include the liver transplant center, shockwave therapy and joint replacement, head and neck cancer reconstruction, myocardial infarction interventional therapy, parathyroid surgery, customized radiation therapy, artificial fertilization, stroke treatment, cancer center, high-risk newborn transfers, pediatric Kawasaki disease, Ritter Treatment and prevention and control of myopia in children.

CGMH's Kaohsiung facility will be featuring its proton therapy at the show, coined as the most advanced radiotherapy technology. The radiation dose of proton beam is like deep water bomb concentrating on the tumor, does not penetrate the tumor to harm the tissue behind the tumor. It not only reduces the dose requirement towards normal tissue, lessen side effects, and improves patient life quality after treatment, but could also allow physicians to increase radiation dose for improved control in certain type of tumors.

The hospital chain boasts the only two proton facilities in Taiwan, located in Linkou and Kaohsiung and serves to be the largest centers in Southeast Asia. The one at Linkou has already treated more than 2,000 cancer patients since November 2015. In addition to proton therapy, CGMH also caters to patients' individual needs with the most appropriate treatment options. The multi-discipline team boasts members with backgrounds in medical oncology, surgical oncology, radiation oncology, hemato-oncology, medical imaging and pathology conduct interdisciplinary diagnosis and treatment evaluation, as well as provide the best treatment such as surgery, targeted therapy, immunotherapy and proton therapy to cancer patients.


Proton therapy center (photo provided by Kaohsiung Chang Gung Memorial Hospital)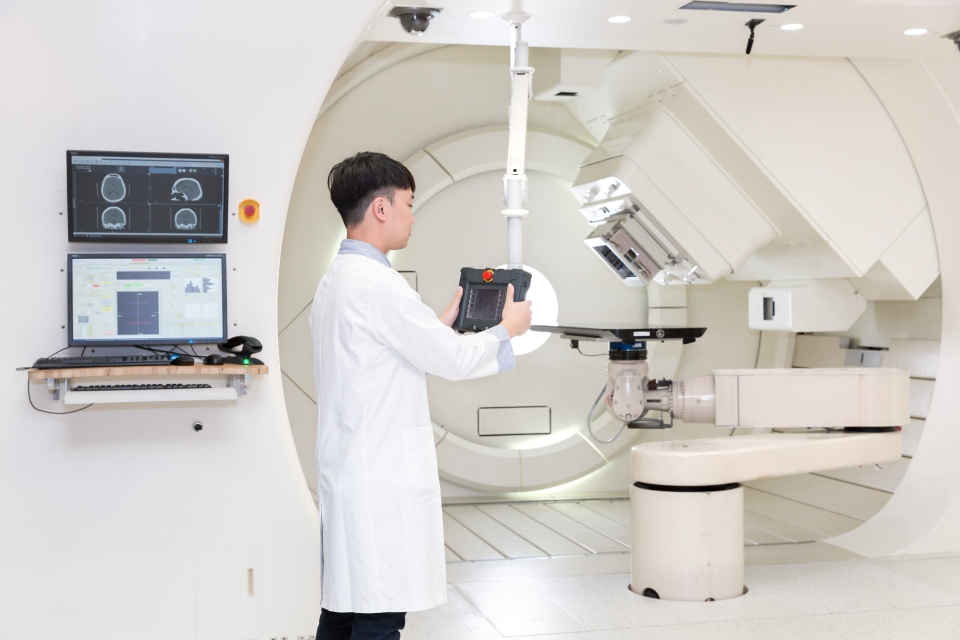 Proton therapy center (photo provided by Kaohsiung Chang Gung Memorial Hospital)