In what would be Medical Taiwan's debut of a scenario pavilion, Taiwan External Trade Development Council and Taiwan Medical and Biotech Industry Association teamed up to design the exhibition area. The unqiue pavilion offers membership companies a platform to showcase their best medical instruments in a scenario exhibition modeled after a smart operation room.

The scenario pavilion is the association's response to give Taiwan's small-and-medium enterprises a leg-up into global markets and means of attracting global business opportunities. Medical Taiwan is just the beginning for the scenario pavilion; the association is also slated to exhibit the pavilion at Germany's MEDICA 2019.

1 Preparation Room
The Preparation Room is where patients undergo a pre-surgery checkup, where nurses will take the vitals of the patient to ensure they are stable. Medical instruments for vital signs or medical consumables are primarily featured here.

2 The First Operation Room
The First Operation Room primarily features medical instruments geared for neurosurgery and abdominal surgeries, such as neurosurgery navigation systems, abdominal position systems, electric scalpels and vital signs monitoring systems.

3 The Second Operation Room
The Second Operation Room features medical instruments geared for nephrology surgery, such as an extracorporeal shock wave lithotripter, as well as vital signs monitoring systems and mobile surgical lights.

4 Recovery Room
The Recovery Room, an area for professionals to keep track of a patient's vitals post-surgery and medical instruments to address recovering symptoms, such as nausea from anesthesia wearing off and would require hot or cold compression. Similar to the prep room, the usual medical consumables like catheters, hospital gowns and surgical masks can be found here.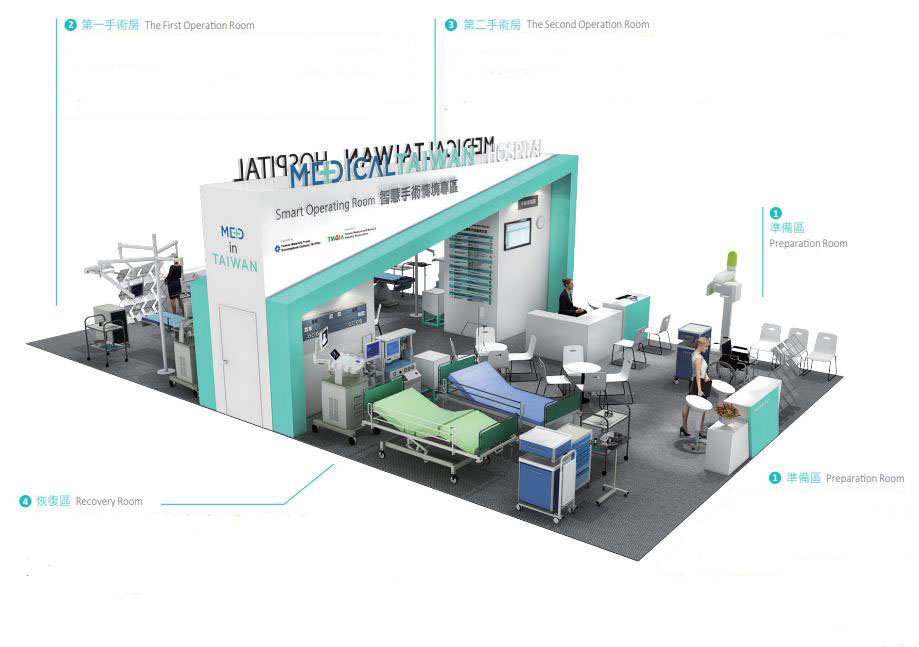 photo provided by Medical Taiwan Show Daily Day 2