The German Pavilion is showcasing at Medical Taiwan for the first time and has brought two companies under its banner. This marks the beginning of, hopefully, what would be a growing mutually, beneficial relationship between Taiwan and Germany, both huge presences in the ICT, IT and medical fields. There is hope that such a relationship would reap positive results, thanks to German quality "Made in Germany" seal and the potential business opportunities the Asian region poses for Germany.

According to the published Industry Overview Report for 2017/2018 by Germany Trade & Invest (GTAI), the economic development agency of the Federal Republic of Germany, in 2016, 70 percent of medical technology products made in Germany were exported to international markets. Germany is now the world's third largest manufacturing nation, boasting a 10.2 percent share of the global medical technology production, just behind USA at 39.6 percent and China at 11.1 percent. In 2015, Germany's exports going to EU member states make up the bulk of its exports at 41 percent, while 10 percent goes to other European companies. More importantly, 18 percent of German exports are shipped to North America and Asia respectively -- that's just in 2015, and there is huge potential in seeing a bigger German-branding footprint in Asia in the years to come.

An Optimistic Start
DEinternational Taiwan Ltd., the service unit of the German Trade Office Taipei, General Manager Leonie Yang says while this year will be the debut of the German Pavilion, she is optimistic for future editions as she finds the two companies that are showcasing at the show -- LINET spol. s r.o. and Power Handling Co. Ltd. -- a great start to their participation.

"We want to give the companies an opportunity to represent their products under German image and branding, and make their presentation more powerful," Yang said. She added exhibiting would raise awareness among the visitors that German brands do have a presence at Medical Taiwan and a location for them to see German products.

There is opportunity for the medical industry in Taiwan and Germany, as the demography is very similar with the society aging fast, Yang said. There is not only demand for such a device for the medical hospital side but also the private side at home.

German companies, of course, want to do sales in Taiwan, Yang said, though she highlights collaboration between Taiwanese and German companies in terms of product R&D. Together with Taiwan's strong background in ICT, IT, apps and connected devices, as well as Germany's medical machinery devices, she sees a huge potential untapped.

The Companies
LINET spol. s r.o., as a part of Linet Group, is a major European manufacturer of hospital and nursing beds, says Stanislav Klocek of Area Sales Manager North Asia. The company offers solutions designed for intensive care, regular in-bed treatment and special beds for elderly homes and long-term care facilities.

The firm is showcasing the "Multicare" flagship bed amongst the ICU bed portfolio. The main feature of this bed is Automatic Lateral Therapy which is a great tool to prevent pressure ulcers, VAP or other pulmonary complications. Lateral tilting also helps nurses to do their everyday routine work like patient hygiene or linen exchange much easier with less effort. Other features like a bed exit integrated in the bed called Mobi-Lift helps patients improve their from standing from the bed and an automatic brake system to avoid injuries are incorporated to assist nurses and patients.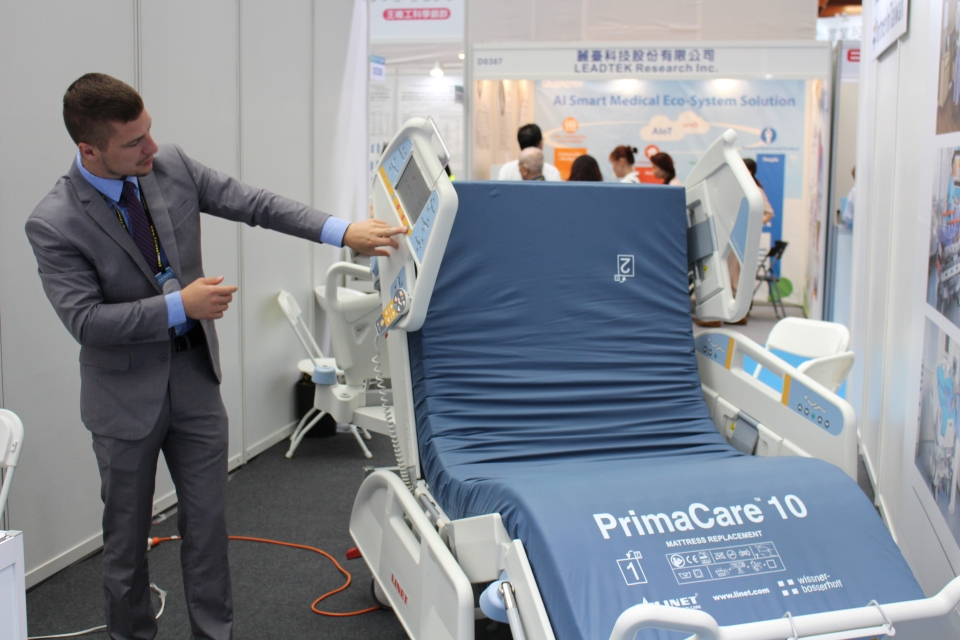 This will LINET's first time at Medical Taiwan. Klocek says they like to gather some feedback related to their products and possibly to attract doctors or other hospital professionals and distributors looking to bring higher comfort to patients and create an easier working environment to doctors and nurses.
The second company is Power Handling Co. Ltd., a firm offering smaller logistics cars that can be used in large warehouses. While the medical field is not the firm's traditional area of expertise to do sales in, Yang says the firm already sees a lot of potential in the medical field, and has developed customers in the field already. Power Handling hopes to expand its reach through the platform Medical Taiwan readily offers for both exhibitors and buyers alike.