The biennial EMO Hannover 2019 will debut on September 16 in Hannover, Germany. As one of the world's largest trade fairs, it is considered a must-attend fair for Taiwanese machinery firms primarily focusing on exports. Apart from the registration of individual firms, Taiwan External Trade Development Council (TAITRA) and Taiwan Association of Machinery Industry will both send delegations to exhibit at the fair. As of publication, there are a total of 200 Taiwanese firms registered at this year's EMO trade fair, making the Taiwanese exhibition area larger than Japan's delegation and placing Taiwan as the third largest exhibiting group among global exhibitors and the largest among Asian countries.

Taiwan's machinery industry has the advantage of industry clusters of tight-knit firms from upstream to downstream. Together with the cumulated manufacturing skills and collaborative network and labor division has propped Taiwan's machinery industry to become a high price-performance ratio and export-oriented system.

As machinery tools are Taiwan's most competitive machinery product geared for exports, Taiwan has become the world's fourth largest exporter of machine tools.. The export of machine tools from January to May in 2019 was valued at US$1.318 billion, metal cutting machine tool accessory and parts at US$1.102 billion and metal forming machine tool accessory and parts at US$216 million. Most of the products are exported to China, accounting for 30.4% of the market at US$400 million, followed by the U.S. at second place with 12.9% of the market at US$170 million and India at third, accounting for US$65.56 million in exported value.

Under Industry 4.0, Taiwan's machinery production industry has taken steps to increase the competitiveness of their products by linking up data of factory assets, ranging from employees, machinery equipment and raw materials, into production management systems. This ensures firms to keep pace with fast-changing client demands through a flexible and adaptive system that optimizes company resources. With the ICT industry as a strong foundation, Taiwan is on the path to overhaul the traditional machinery industry for more efficient, precision, customization and smart solutions, as well as interlinked production lines.

In response to assisting machinery firms to put a stake in smart machinery business , TAITRA, in particular, is forming a delegation to attend EMO. There, there are plans to set up a Taiwan Smart Machinery Pavilion at the new IoT exhibition area, where firms will host a demo site to showcase smart machinery networks, system integration platforms, 3D visual recognition, interlinked machinery arms and machine tool parts and technologies. Buyers will have a better understanding of the smart machinery R&D, production, marking and aftersales services as a comprehensive solutions package for Taiwan's smart machinery field.

Fair Friend Group (FFG)is slated to rent a pavilion on exhibition area of 6,700 square meters, making it the second largest exhibitor and single-handedly beating all of the U.S. and Chinese exhibitors combined. FFG President Zhu Zhi-yang said the group will have over 20 brands under its banner exhibiting, displaying a complete, comprehensive product line to select from, including 10 themes such as automotive (electric cars and gasoline vehicles), aerospace, healthcare, electronics, 5G Factories of the Future and smart manufacturing.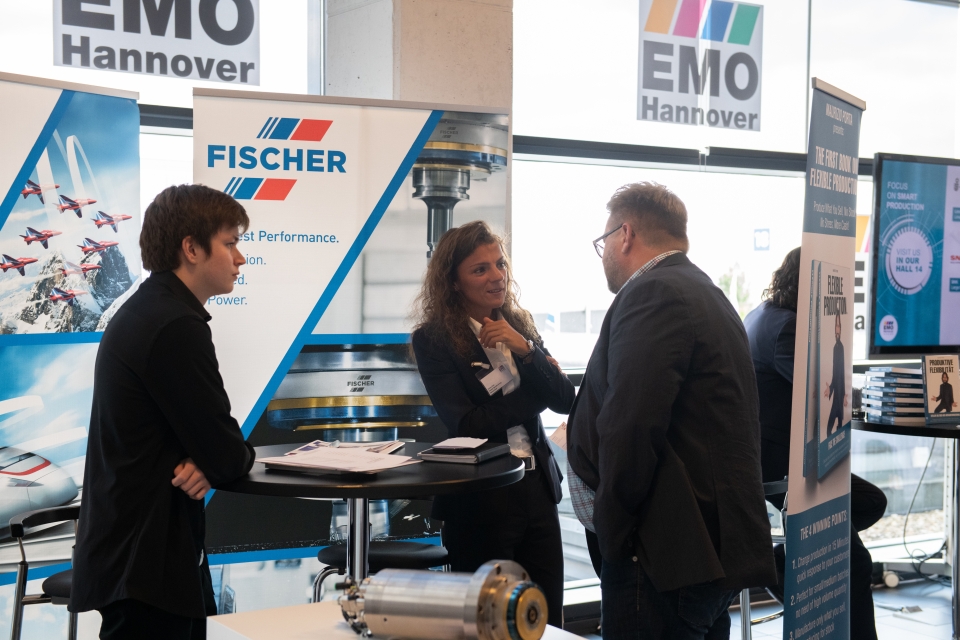 The EMO Hannover 2019 Preview (photo courtesy of German Machine Tool Builders` Association )
Under the impact of the trade war between the U.S. and China, buyers have expressed hopes of seeing firms move their production chains out of China to other Southeast or South Asian countries like Vietnam or India, in consideration of reducing business risks. In the short term, it would affect the Chinese market, which is the most important market for Taiwanese machinery manufacturers. Yet, relocation will prompt manufacturing industry to increase procurement of machinery equipment, signifying a potential business boom for the industry in the second half of this year. The 20% increase of exhibitors and 10% increase of exhibiting area at EMO compared to the last edition is an indication of the trade tension factor at play.