The first K Trade Fair was organized by Messe Düsseldorf in 1953, taking place every three years and eventually becoming the benchmark of international trade expos for plastics and rubber. This year, the K Fair is entering its 21st edition continuing its reputation among industry members as the must-visit platform to do business. The last event in 2016 attracted 3,293 exhibitors from 61 countries on more than 1.8 million sq ft of net exhibit space. In terms of its size and importance, K far outweighs the second and third on the list, namely the NPE in the U.S. and IPF show in Japan respectively.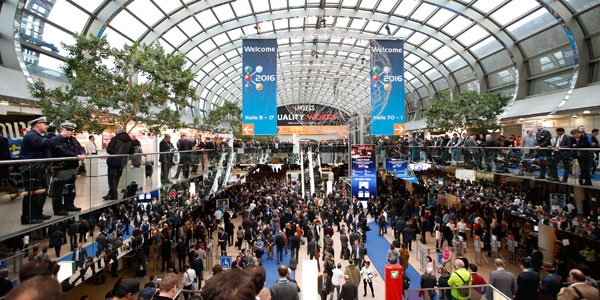 Crowds attending K 2016 (photo courtesy of Messe Düsseldorf)
According to the post-show statistics, 232,053 trade visitors from over 160 countries, with 71% of buyers coming from abroad, were welcomed to the exhibition halls during the eight-day K 2016, The exhibit includes processing equipment, application products, molds, and the latest 3D printing technology in the rubber and plastics industry. Industries equally important to the plastics and rubber industry, such as packaging, automobiles, electronic products, medical equipment, and chemical raw materials, can also be found at K, making it the most comprehensive exchange platform for buyers and suppliers in the plastics-related industry. Approximately a hundred Taiwanese exhibitors participated at K and were located in Hall 12, creating business opportunities worth more than US$100 million.
Innovative materials and technologies have always been the core value of the K Trade Fair. The 2019 theme "Plastic Shaping the Future" explores how plastics can have a sustainable impact on our future, and how likely industry propositions, visions, will become the reality of tomorrow? The seven-day event will focus on the theme and propose solutions through discussions from economic and ecological experts.
The importance of the circular economy has always been a topic of great importance at past K Trade Fairs. At present, plastic waste poses increased threats to ocean pollution. Many plastic products that cannot be decomposed as the waste flows through the ocean currents and drift around the world. In addition to directly threatening the survival of marine species, it also affects the food chain, indirectly impacting human health. In light of the environmental impact of the industry, as the world's largest rubber and plastics industry exhibition, the K Trade Fair is a great example of working towards a healthy ecosystem by balancing plastic usage and recycling.