As manufacturing industries around the globe gear up for smart manufacturing, corporations are learning how to effectively acquire and manage their own production data to enhance market competitiveness. In the past, managers needed an enormous amount of labor hours to retain production and factory data. At traditional factories, operators meter data at a designated location and pass the data on to managing personnel and technicians to sort, evaluate, and diagnose if any equipment or production lines require adjustments or maintenance. This method is labor intensive and requires collaboration from a range of professionals to process the acquired data. Managers have difficulty making strategies with real-time data, and there is the potential risk for misjudgments and losses caused by deferred decisions. In addition, with the current labor shortages, manpower used for data metering on a regular basis is likely to burden companies with greater operation costs.

Equipment and production lines generate a great amount of data during operation, including, operating temperatures, fluid pressure, torque, control point, and more. This data can be measured by sensor devices, and then further categorized, analyzed, and integrated via data acquisition and monitoring systems to become a real-time and effective visualized data, such as current operating programs, heating time, cutting time, target processing statistics, and more. This helps managers acquire key data in time to plan more accurate strategies. To meet the demand for customer data management, Delta offers a comprehensive IoT and data monitoring solution that covers the following aspects: data transmission devices for field equipment, data acquisition and collection with control devices, and a data monitoring and management system (SCADA) for the management level. This solution effectively resolves potential problems of manpower data metering, and data time sensitivity. It also reflects processing parameters and equipment operation status in real-time to support production analysis and prediction, and achieve digitalized factory monitoring and production management to create more benefits for companies.

For the production automation process, customers install data acquisition and monitoring systems into controller devices, such as CNC controllers or programmable logic controllers (PLCs) to directly engage in data collection, analytics and monitoring. Delta recently fulfilled the demand of a semi-conductor manufacturer in Taiwan to integrate a complete automatic control, data acquisition, monitoring, and management solution. This solution adopts the following capabilities:

1. Field devices control machine temperature and pressure: In actual operation, sensor devices play a great role in acquiring the data of production lines in factories. For example, the Standard Temperature Controller DTA Series acquires operating temperatures of equipment, and the Standard Multifunction Pressure Sensor DPA Series monitors parameters, such as pressure, of machine tools during processing.

2. Controller and switch devices for equipment control and data exchange: This solution adopts the Compact Modular Mid-range PLC AS300 Series for controlling and giving commands. The AS300 Series can perform multitask control and high-speed data processing in real-time for the entire equipment and production line. In addition, the Managed Ethernet Switches DVS Series transmits the equipment data to the DIAView SCADA System for later analytics and monitoring processes.

3. Equipment IoT platform for machine data collection in the production line: This solution adopts the Equipment IoT Platform DIALink for CNC-based machines that offer various modular functions to fulfill the demands of the machine tool industries. These functions help to collect and integrate the processing data of the CNC controllers in multiple production lines, including key data points, utilization rate calculated, processing conversion rate, and more. This data is primarily processed and further uploaded to the DIAView SCADA System via the Managed Ethernet Switches DVS Series for later comprehensive processes.

4. SCADA system to collect data for analytics and monitoring: The DIAView SCADA System can real-time monitor each key production factor, analyze data collected from controllers and equipment IoT platforms, and then transform the data into real-time curves and history logs. The system can save data in the database later for visualizing production efficiency as well as potential issues, achieving more intelligent data management and helping customers find key causes and make predictions.

In actual application, Delta's CNC machine IoT solution brings the following advantages to our clients:

• Easy operation for effective data collection: The data between the DIALink Equipment IoT Platform and controllers can be transmitted only through Ethernet ports. In addition, DIALink offers a user-friendly interface featuring a built-in one-click scan that can list all points monitored.

• Visualized data graphs for intuitive management: The DIAView SCADA System adopts various built-in functions that users can self-define customized functions based on different demands. Graphical data information enables presentation and comparison of the operating parameters of the system through a smart curve. This solution also offers a bar chart function to highlight statistics to contrast numbers on each machine to help analyze production.

• Total solution provides easier and more efficient integration: Delta's CNC Machine IoT Solution adopts a variety of industrial automation products, including sensor devices for data acquisition, Managed Ethernet Switches DVS Series for data exchange, and Compact Modular Mid-range PLC AS300 Series for system commands, to integrate customers' existing production lines without requiring overall replacement. In addition, the Equipment IoT Platform DIALink features high network compatibility and supports multi-party driver brands, achieving a benefit of one-stop shopping to build the ideal automated production line for customers.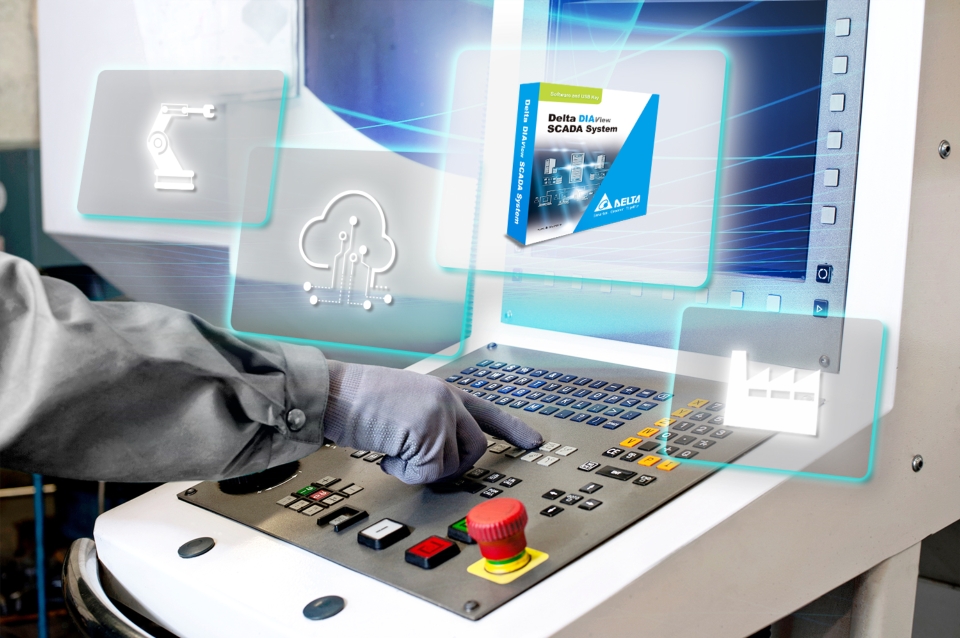 Delta has developed the Equipment IoT Platform DIALink for CNC-based machines that provides various machine tool data collection functions for a powerful IoT (photo courtesy of Delta)
Delta's CNC Machine IoT Solution integrates a comprehensive automation system with sensor devices, Ethernet switches and controllers. In addition, the equipment IoT platform products matched with a powerful SCADA System play a crucial role of analyzing, monitoring and managing data from production lines to factories, to achieve real-time and efficient IoT. With factory and production data management in digitalization, the whole solution helps customers not only reduce required labor and time, but also guide industries to benefit from smarter manufacturing.