One of the best-known Taiwanese suppliers of wholeplant equipment for plastic bag production, and the island's third-largest exporter of its kind, is Kang Chyau Industry Co., Ltd. Founded in 1988 in New Taipei City, northern Taiwan, Kang Chyau maintained robust growth during the first half of this year, says its chairman, C.I. Kang.

"Over the past years," Kang went on, "our company has effectively retained almost all of our old customers while receiving orders from new ones, even though we haven't slashed prices in a scramble for orders. The reason for this achievement, I believe, is primarily our dedication to making our machines better through quality, R&D, and innovation."

Kang, who has over 50 years of experience in plastic processing, emphasizes that his company has worked constantly to develop new machines with higher performance, better functions, and lower power consumption, improving their mechanical design to better handle different plastic compounds at lower cost. "Kang Chyau leads the sector with its unprecedentedly rich know-how of plastic formulas and mechanical design for a variety of key components and parts, including screws and gearboxes," says Kang. "With those competitive advantages, our company has gained prestige among professionals all over the world."

More evidence of Kang Chyau's high status comes from its designation by the Taiwan External Trade Development Council, a semi-governmental export promoter and organizer of Taipei Plas, to grant exclusive interviews with an international delegation of reporters from the U.S., India, Germany, Turkey, Brazil, and Japan as a leading supplier in its line. "The common conclusion among those foreign reporters after the interviews is that Kang Chyau is a truly competent maker of plastic inflation equipment," claims the chairman.

Twin Head Blown Film Machine
One result of its continuous R&D efforts is the company's new twin head (A/B/A Layer) HDPE/LDPE/LLDPE plastic inflation machine, coded KMTL-4545T, which is designed to meet the growing demand for efficiency, diverse functions, and high productivity.

Built with twin die heads and two 3-horsepower cooling blowers, this innovative model can churn out two 10-32 kilogram rolls of film per hour, with a winding unit incorporating 1/2 horsepower DC motors that drive 760mm-wide rollers and a take-up unit that uses AC motors to achieve a take-up speed of 85 meters per minute. The extruder unit employs a 20-horsepower AC motor coupled with an inverter and two improved high-quality screws with a diameter of 45mm. The heating capacity is 18.8kw, and there are four barrel cooling fans to enhance energy efficiency and overall performance.

With an improved electric control system, this machine also features outstanding stability and safety. It is suitable for making HDPE, LDPE, and LLDPE film with a thickness and width of 0.01-0.15mm and up to 400mm, respectively.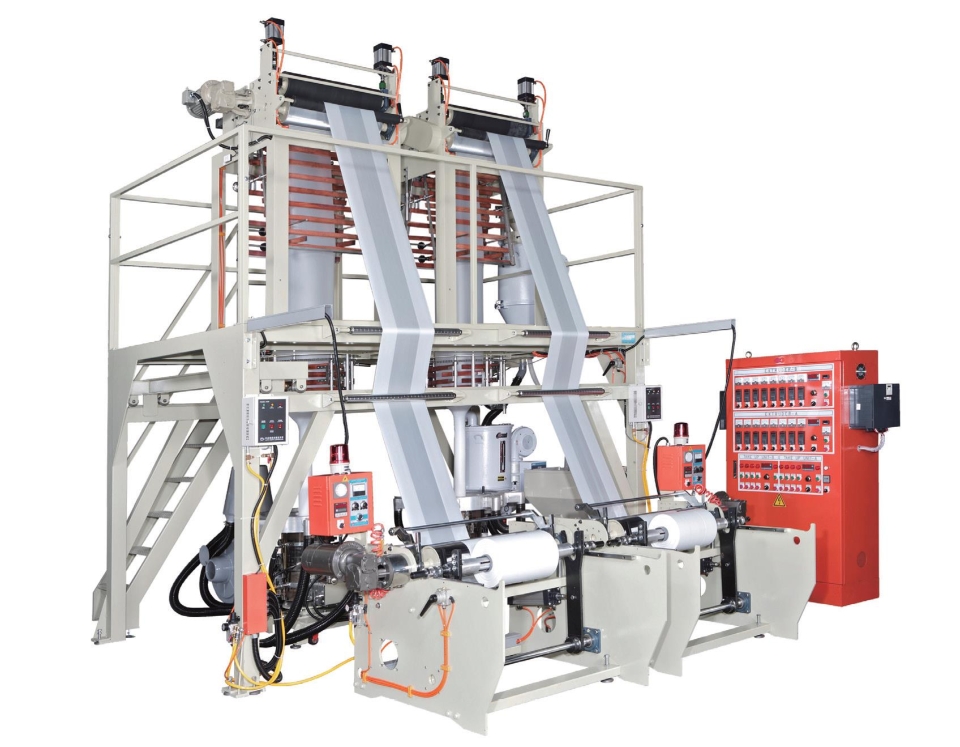 Blown film machines have been one of the mainstay segments of Taiwan's machinery industry (photo courtesy of UDN.com).