Donald Trump will reimpose tariffs on imports of steel and aluminium from Brazil and Argentina after accusing the countries of a "massive devaluation" of their currencies that hurt US farmers.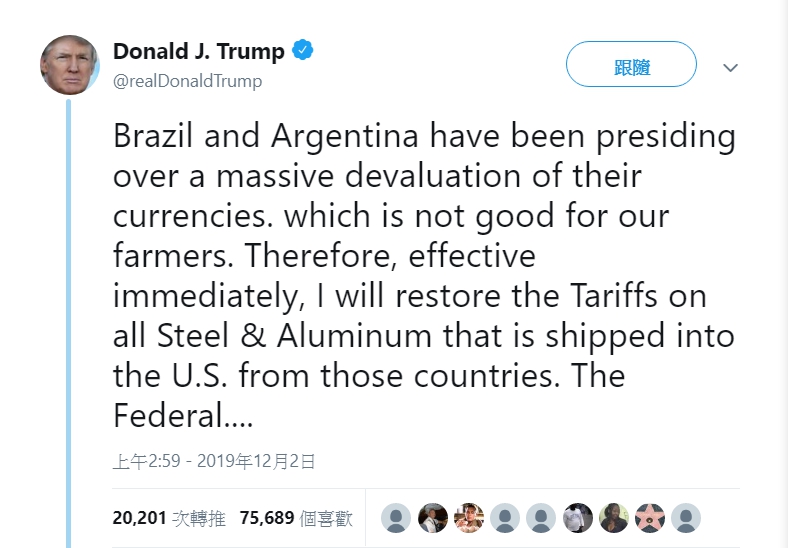 Trump to hit Brazil and Argentina with steel and aluminium tariffs
The move — which was announced by Mr Trump on Twitter on Monday — sharply escalates trade tensions with the two struggling Latin American economies as they build closer ties with China.The announcement added to global stock market jitters, handing US and European equities their biggest one-day falls since early October. Wall Street's S&P 500 closed 0.9 per cent lower, while Europe's broad Stoxx 600 index sank 1.6 per cent. The US dollar, down 0.5 per cent, fell the most in three months.
The US president originally announced the metals tariffs on national security grounds last year, but then exempted some US allies after a barrage of complaints from domestic consumers and heavy diplomatic backlash from affected countries. Argentina and Brazil were initially shielded from the tariffs — worth 25 per cent on steel and 10 per cent on aluminium — but Mr Trump has abruptly decided to restore the countries as targets amid fears that their agricultural producers are outflanking US farmers in global commodity markets. Brazil's exports of farm products like soyabeans to China have grown rapidly during the US-China trade war. 
The move has highlighted Mr Trump's willingness to use metals tariffs, one of his signature policies, as a negotiating tool, even though they were originally introduced for national security purposes. The US president has imposed the levies on the EU, and applied and subsequently withdrawn them against Canada and Mexico. He also raised and then lowered them again on Turkey.The US president's action against the two Latin American countries came amid renewed concern about the state of the US manufacturing sector, which has been hurt by global trade tensions. The ISM's index of US factory activity, released on Monday, contracted more than expected last month, pushing stocks into the red.