The New epidemic has raged, and the United States has become the country with the most confirmed cases in the world. For this reason, President Trump has recently increased its anti-epidemic efforts, citing regulations and calling on the US manufacturing industry to invest in the production of medical supplies such as masks and respirators. The company Medtronic has jointly invested in the research and development of respirator. Hon Hai pointed out that it hopes to speed up the time of mass production and enter the ranks of epidemic prevention as soon as possible.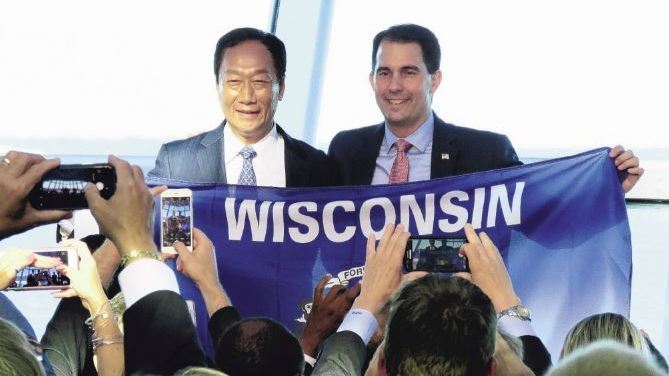 Hon Hai founder and Republican governor Scott Walker signed a memorandum of cooperation in 2017.
The Hon Hai team confirmed that it is cooperating with Medtronic, a US-based medical equipment company, to develop respirators. At present, the medical and technical personnel of both parties have worked closely together, hoping to speed up the mass production schedule and enter the ranks of epidemic prevention as soon as possible.
Hon Hai expressed its special thanks to the founder of the Group, Mr. Guo Taiming, for the lead to facilitate this cooperation, so that Medtronic and the Group can join hands, and in this cooperation case, selflessly contributed many of the results of past efforts in medical health. According to the Medtronic plan, the respirator jointly invested by the two parties will be produced at the Hon Hai Weizhou plant; there is still no clear details about the production capacity and production schedule.
The Hon Hai Weizhou factory was signed in July 2017 by the group founder Guo Taiming and Republican Weizhou governor Scott Walker. The original plan was to invest 10 billion US dollars to build a 10.5 generation LCD panel factory and create 13,000 job opportunity. However, as the situation changes, the current plan has been changed from the 10.5-generation LCD panel factory to the sixth-generation LCD panel factory.
Trump recently quoted the Defense Production Act to enable companies to assist in production, including major US car manufacturers Ford, GM, electric car manufacturers Tesla (Tesla) and consumer electronics OEM Flextronics (Flextronics) also invested Respirator production.