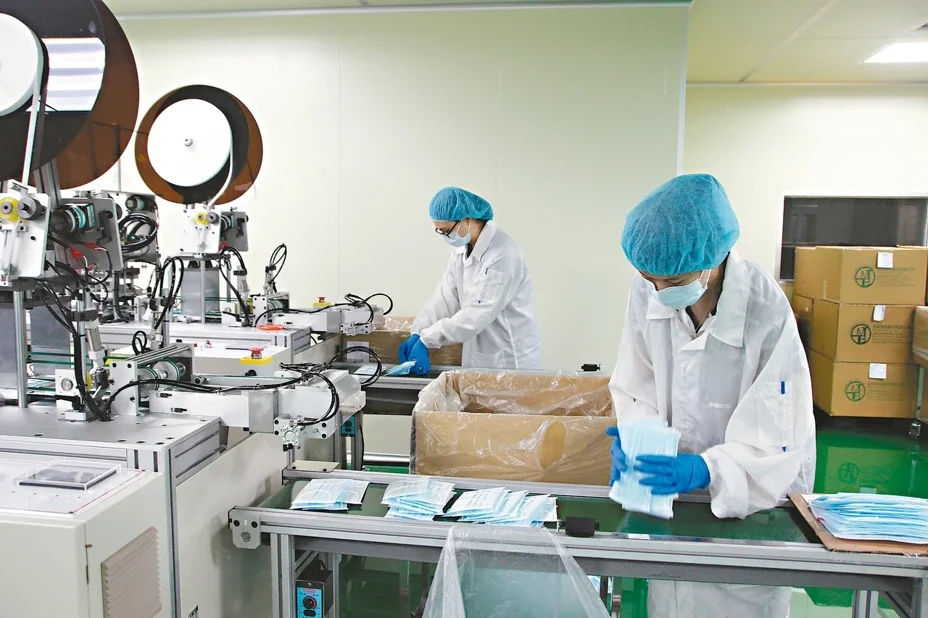 Domestic companies have invested in manufacturing in the production of respirators and masks(Photo courtesy of UDN)
The epidemic of New Pneumonia is raging, and the global demand for respirators and masks is strong. Domestic major technology companies have actively invested in related production. Among them, after the production of masks in Hon Hai, they will step into the manufacture of respirators; Jinbao will also produce two major respirators and masks in May. Anti-epidemic products; As for the equipment of the Taiwan National Mask Team, Advantech 's industrial computers are used, and the anti-epidemic hardware business opportunities have become a new phenomenon in the technology industry. (Science and technology plant attack and epidemic prevention equipment, familiar with the manufacturing process is an advantage)
Hon Hai confirmed that US medical equipment manufacturer Medtronic and Hon Hai Group cooperate to manufacture respirators and plan to produce "PB 560" respirator devices in the Wisconsin plant in the United States. At present, the medical and technical personnel of both parties have worked closely together and hope to accelerate Time for mass production and early entry into the ranks of epidemic prevention. It is rumored that this cooperation case was led by the founder of Hon Hai Guo Taiming.
In terms of masks, because the key materials of masks are controlled and distributed by the country, after the certification of Hon Hai 's mask production line in mid-March, it should be able to join the production of the national team in the near future. Campbell, who has long been deeply involved in Southeast Asia, also announced yesterday that it supports the Philippine and Thai governments 'epidemic prevention needs and invested in the production of medical equipment. From May, they will produce 2 million pieces of medical masks and 1,000 sets of medical masks in the Philippines, Thailand and the United States Use a ventilator.
As for the industrial computer used by the equipment of the Taiwan National Mask Team, it is provided by Advantech. Lai Yongxiang, general manager of the Precision Machinery Center, said that 20 countries now have strong demand for mask production equipment, and hope that Taiwan will export one-stop whole-mask solutions for masks. At present, it has received orders for equipment from Canada and the United States and started shipping.
Microcontroller manufacturers such as Shengqun, Xunkang, Songhan, etc. have benefited from the huge demand for medical measurement and imaging chips, and they have recently taken advantage of anti-epidemic hardware business opportunities. Members of the Allied Joint Fleet also joined the ranks of anti-epidemic. Including the network management equipment supplied by Qiyang to the mainland 's sheltered cabin hospitals; Jia Shida and BenQ Mitutoyo provide portable ultrasound; Aon helps to increase the amount of transfusion consumables prepared; Luo Sheng provides parts of the national team 's mask machine.