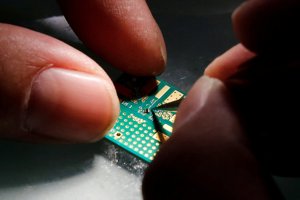 Semiconductor industry lobbies for billions(Photo courtesy of UDN)
The U.S. semiconductor industry is stepping up lobbying, seeking US$37 billion in plant construction and R&D subsidies from the federal government to ensure that U.S. technology continues to lead other countries that provide high subsidies to the chip industry, especially in mainland China. It is to build the US national semiconductor team through subsidies and increase the domestic production ratio.
The Wall Street Journal (WSJ) reported that the US$37 billion subsidy draft of the American Semiconductor Industry Association (SIA) includes the investment of US$5 billion to build a new wafer plant, US$15 billion to assist states in securing semiconductor investment, and another US$17 billion to increase basic research, Applied research funds and new technology centers.
SIA speculates that the mainland's wafer production capacity will double by 2030, accounting for about 28% of the global total production capacity. Intel and GF of the United States are one of the world's largest wafer manufacturers, but only 12% of their wafers are produced domestically. Subsidy policies abroad have prompted them to shift their production lines to Asia, Israel and Ireland.