Kung Hsing Plastic Machinery Co., LTD., founded in 1972, is the brainchild of the company President Tsai Chin-lien's over 48 years of experience in designing and producing extrusion machines. The firm stood by its belief to uphold integrity and offer the best quality and services, eventually becoming a leader in the extrusion machinery industry in Taiwan. Kung Hsing currently has two factories; the first primarily manufactures and assembly parts, while the second is in charge of testing, assembly and delivery of the machineries.

In preparation of rolling out higher specifications of film-blowing machinery and meeting the trends of bigger models, as well as fulfilling the needs of domestic clients who prioritize quality and reliability, the firm has begun the construction of its third factory, with the goal of producing high-performance machineries and maintaining top production volume. The planned factory is slated to sit on 2,000-ping of land, designed with high-ceilings and equipped as a smart factory. This new hub would serve as its focus point for Kung Hsing to build upon with its 48 years of designing and manufacturing experience, in areas including technology, energy-conserving, environmentally-friendly and smart elements.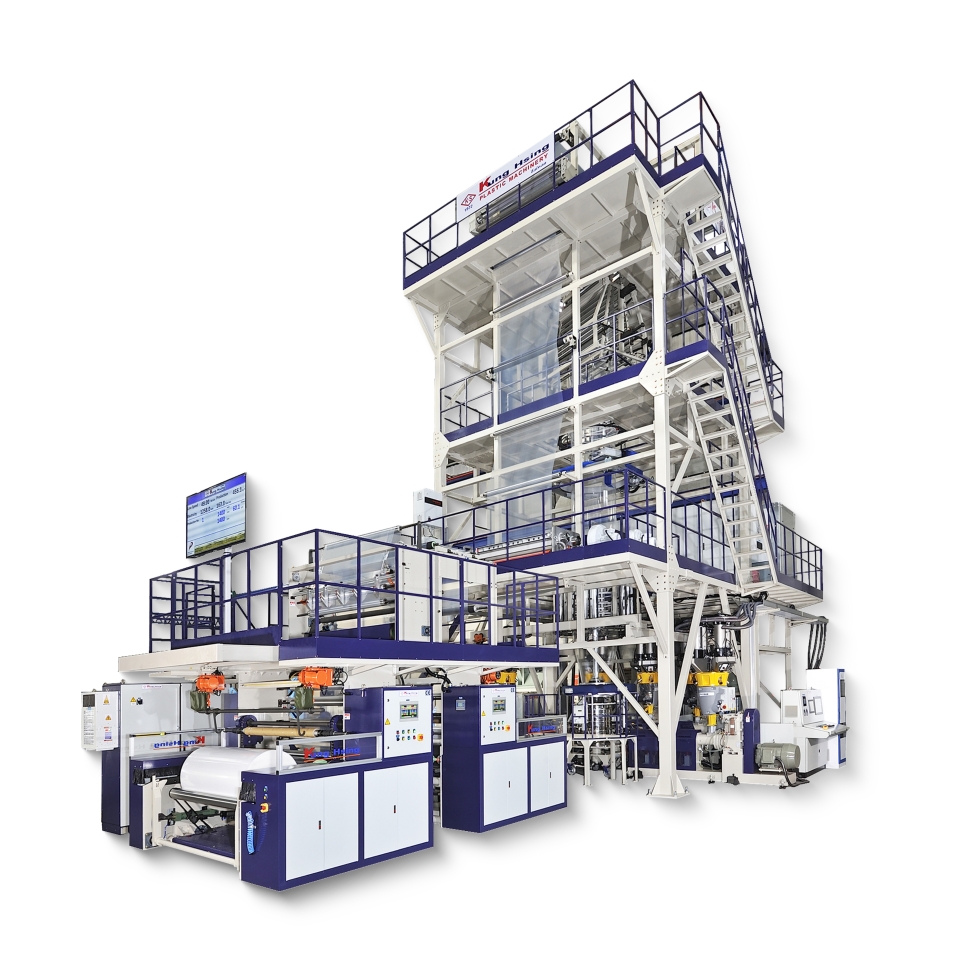 The team at Kung Hsing is comprised of over 80 mechanics with years of experience under their belts. They have also equipped their technologies design department with the newest 3D design programs to roll out high-precision part designs to improve work efficiency. The firm's strategy is to use the best and most reliable materials to produce parts with its high-performance machines. Kung Hsing manufactures PP/PE inflation (film blowing)-making machines, nylon/polyester/PP/PE monofilament-making machines, PP/PE flat yarn-making machines for woven bags, machines for PP packing bands, PP sheets, plastic recycling, as well as special designs for extrusion system machines, and projects like entire factory equipment. The firm has already obtained ISO 9002 certification and meets CE standards, making it a top global contender. Also, Kung Hsing would put each product under vigorous inspection and quality control before delivery of each machinery to its clients.
Kung Hsing can offer its clients with professional support and services thanks to its years of experience in professional manufacturing and designing machinery, as well as trade know-how. Even with the marketing challenges in the industry, the firm has already successfully marketed its machines to over a hundred countries. As each machinery has its own serial code and documentation, a method that Kung Hsing has kept up for over 48 years, this has made the firm's after-sales service unparalleled to its competition, and thus, thoroughly cementing Kung Hsing's reputation in the plastics industry.