Export Machinery Saw -15.4% Export Growth Compared to Jan. 2019 Imports Grew 7.8%, machinery Products See Big Challenges Ahead in 2020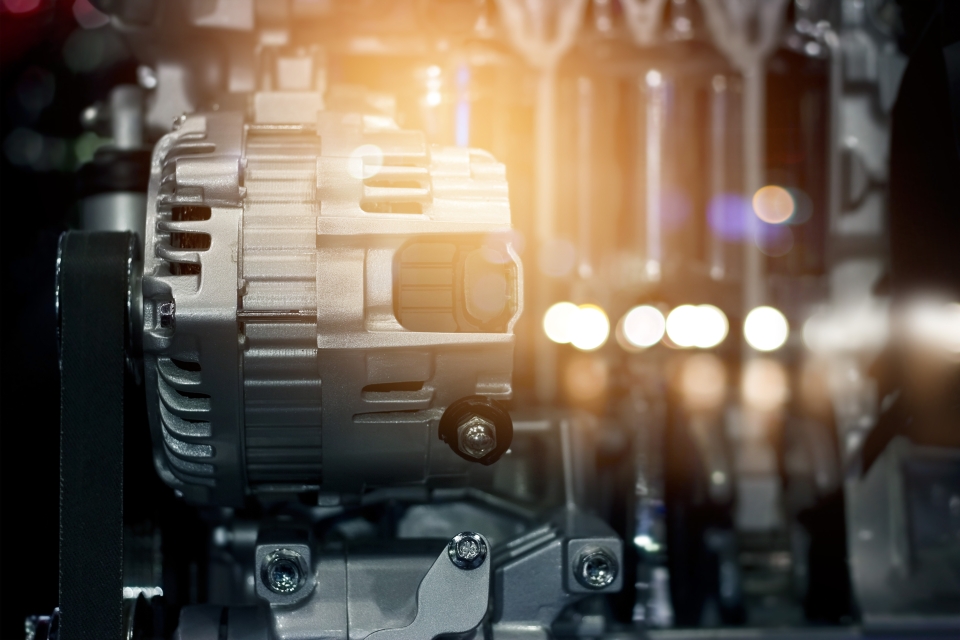 Photo courtesy of CENS
By Wang Cheng-Ching (TAMI Association Affairs Consultant)Translated by Chao Ting-Yu
1. Machinery Equipment Exports
In Jan. 2020, Taiwan saw a slump in its machinery exports. Outbound value was reported at USD$2.05 billion, a -15.4% growth compared to the growth in the same period as last year. In Taiwan dollars, export value was at TWD$61.5 billion, a -18% growth compared to the same period in 2019. This is the case for all of Taiwan's exports, showing export growth in the negatives — total exports in 2020 show -7.6% growth in U.S. dollars.
2020 total export value was at NTD$752.4 billion, a -10.0% growth compared to 2019's same period. Out of all primary exports, machinery products appeared to perform the worst. Electronic products saw a 0.1% growth, while information, communications and audio-video products reported a decrease of 5.3%. Other products also saw negative growth, chemicals at -14.9%, steel and metals at -22.5%, medical optical products at -14.1%, and electrical machinery at -13.5%.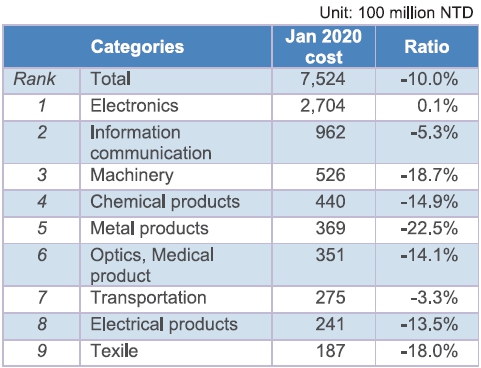 Source: Ministry of Finance
2. Prime Markets for Taiwan's Outbound Machinery
(1) Machineries' Outbound Markets
The primary destinations of Taiwan's machinery products in January 2020 all show negative growth. The top destination is Mainland China, ranking 1st at -25.6% growth compared to last year, followed by the U.S. in second at -2.6% growth compared to last year, and Japan in third at -19.6%.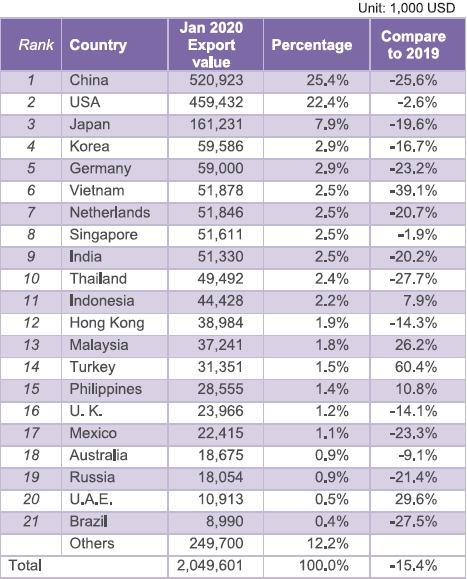 Source: Custom, BOFT, and TAMI referenced from VDMA
(2) Machine Tools' Outbound Countries
Taiwan's machine tool output value hit USD$185 million this January, a 35.1% negative growth compared to last year. The machine tools industry are currently embroiled in a more complicated international competition, as well as a Japanese Yen experiencing a massive devaluation of over approximately 30%, which would impact foreign buyers looking to put orders with Taiwan.
Among the top 16 countries and markets for Taiwan's outbound machine tools, Mainland China is ranked 1st, boasting an export value of USD$36.12 million, making up 19.5% of total exports, yet representing -51.8% compared to Jan. 2019. Followed up is the U.S. in second, with export value at USD$24.8 million, making up 13.4% of total exports, and presenting a -37.7% growth compared to Jan. 2019. India is in third, with USD$12.72 million in export value, making up 6.9% of exports and a negative growth of 39.8% compared to last year.
Other markets show continual negative growth except for these markets: Turkey with 135.8%, Indonesia with 109.4%, Malaysia with 61.2% and South Korea with 17.0%.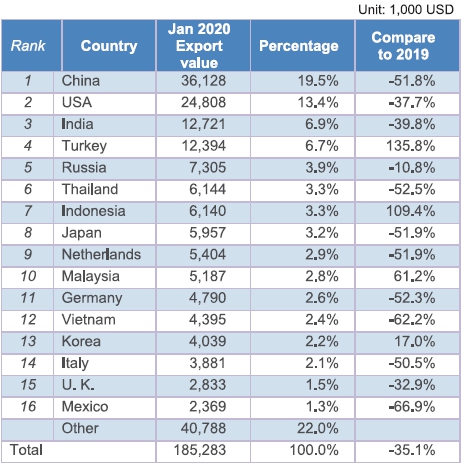 Source: Custom and TAMI
3. Taiwan Machinery Outbound Countries' Economic Growth in 2018 and 2019
(1) 2018 Economic Growth
IMF reported in 2018 that the global economic growth was at 3.1%; Taiwan reported 2.6% growth, while other countries, mainly China reported 6.6%, the U.S. 2.9%, Japan 0.8%, Germany 1.5%, South Korea 2.7%, Singapore 3.1%, India 7.3% and France at 1.7%.
(2) 2019 Forecasted Economic Growth
The IMF slashed its forecasted figures for 2019 global economic growth; Taiwan reported 2.6% growth, while Taiwan machinery's major export country China saw 6.1% growth, followed by the U.S. at 2.3%, Japan at 1.1%, the Euro zone seeing 1.6%, Germany at 0.5%, South Korea at 2.0%, Singapore at 0.7%, India at 7.5% and France at 1.3%.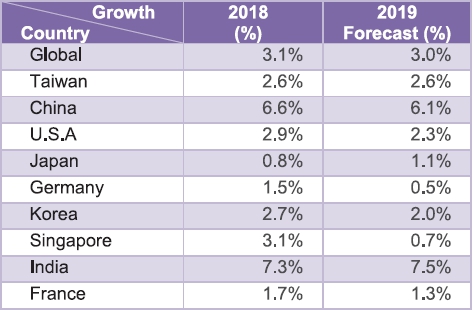 Source: Ministry of Economic Affairs
4. Factors Impacting Taiwan's Machinery Exports
The first impact being the exchange rate between the New Taiwan and U.S. dollar — the average U.S. Dollar to New Taiwan Dollar exchange rate in January 2020 was 30.00NT$/US$, a 2.73% increase compared to the same period last year. The Korean Won was still in a devaluating state at the time of writing, while in 2019, the New Taiwan Dollar was comparably stronger against the U.S. Dollar, leading to Taiwan's products struggling against competition on the global market.
At present, the biggest threats posed against Taiwan's machinery products in the international market comes in three forms. The first being that the Japanese Yen strongly devalued against the U.S. Dollar, making Japanese mid-to high-end machineries favorable, and enjoyed lower U.S. prices on the global market. The second threat was similar machinery being offered by South Korean suppliers. The Korean nation was buoyed by FTAs, hampering Taiwan's machineries in its primary export markets. The final threat comes from the mainland, as their firms can offer products at an even lower price compared to Taiwanese offerings.
Machinery products must find new strategies to survive amid the U.S.-China trade war, and the unsettled global trade and economic state. Development should look towards automation, customization, and equipping products with smart functions, which are all considered must-have capabilities in this ever-changing market. Also, domestic firms should have the ability to take in both urgent orders and short production orders, meaning to improve its ability to adapt and deliver. On the other hand, the government trade agencies must speed up efforts to execute better liberalized trade policies, and faster response against the U.S. Dollar. Such measures are to help domestic firms compete on a more equal stage against Japanese and Korean machinery competitors.
At the time of writing, industry experts agree on the one persistent issue hindering Taiwan's machinery exports, is the fact that the New Taiwan Dollar is too strong, compared to the currency of other competitors. They suggest adjusting the exchange rate to a middle-ground, with considerations of the appreciation and devaluation of other currencies. On the other hand, the uncertainty around the U.S.-China trade tensions, as well as the COVID-19 pandemic, are both factors that are leading to lukewarm machinery exports in 2020 for Taiwan.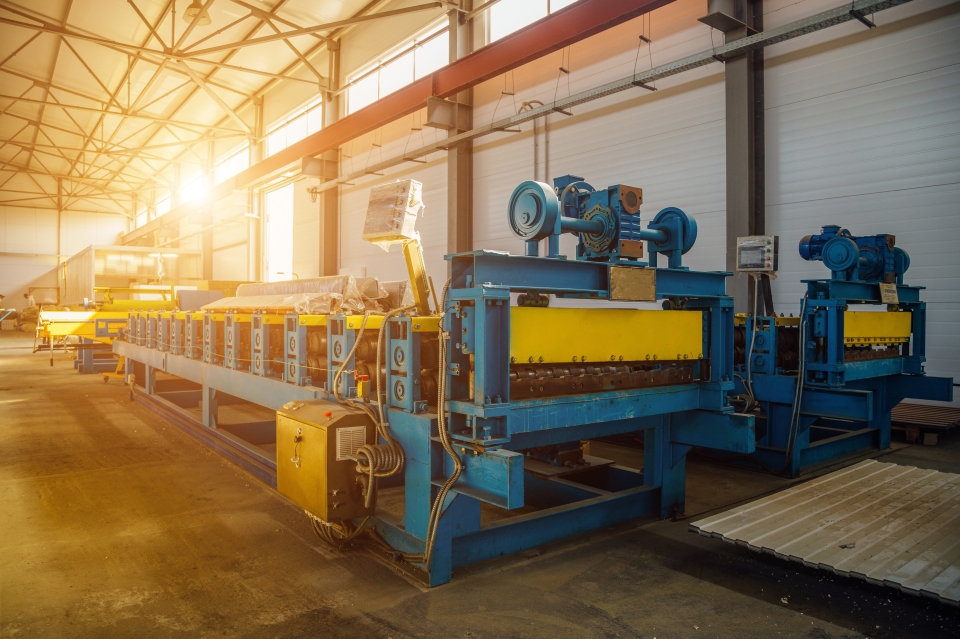 Photo courtesy of CENS