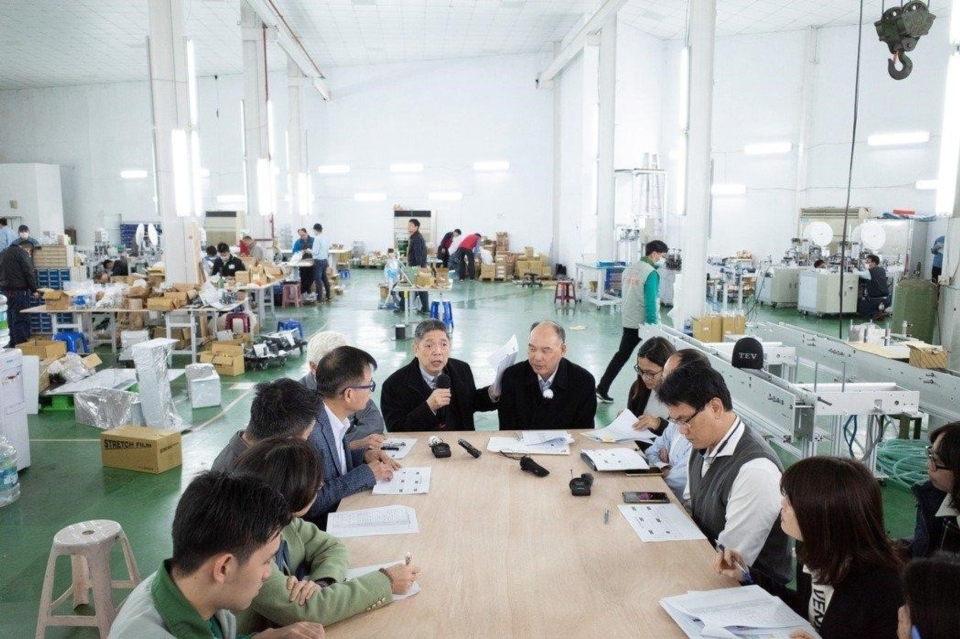 TMBA's mask-making team holds a meeting. (Photo provided by Hiwin Technology)
By Huang Wei-Shiou
Gov't Successfully Keeps COVID-19 at Bay with Teamwork
As news of the COVID-19 virus overwhelms the world, Taiwan's government acted quickly to increase investment in expanding the country's mask-producing volume to 60 machines. This mammoth effort was headed by domestic firms – Chang Hong Machinery and NCM Nonwoven Converting Machinery. The goal was to expand production to churn out millions of masks per day by March. The Ministry of Economic Affairs (MOEA) teamed up with Taiwan Machine Tool & Accessory Builders' Association (TMBA) to lead around 30 machine tool manufacturers, assembly factories and parts suppliers, as well as organizations like the Industrial Technology Research Institute (ITRI), Precision Machinery Research & Development Center (PMC), Metal Industries Research and Development Centre and Textile Industry Research Institute Foundation. They formed the foundation of Taiwan's "national mask-making team," a team with the goal of setting up production equipment for mask-making factories. ITRI also assigned personnel to oversee commercial rights of automating mask-making equipment and setting up machinery and production chains. The strong synergy bolstered the team's ability to roll out production equipment that could be put into use at once. Under non-stop efforts, the team was able to deliver 60 mask-making machines in early March, a feat that would normally take half a year to fulfill.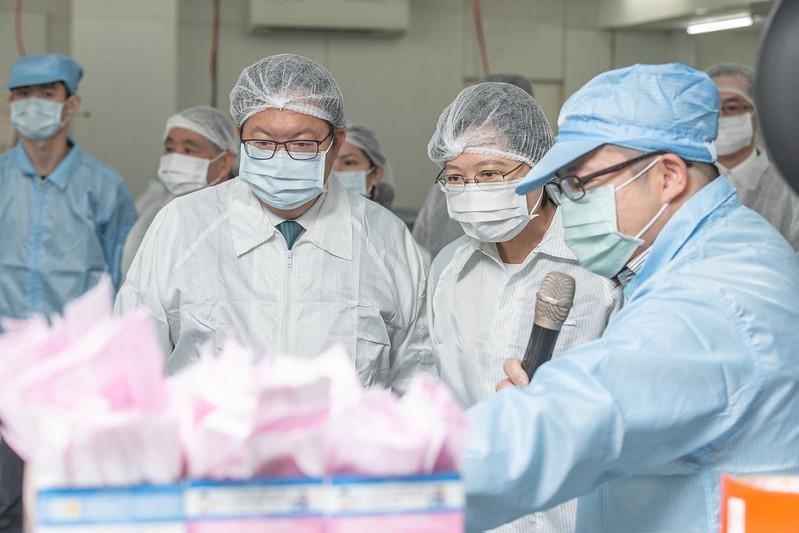 Caption: President Tsai Ing-wen oversees the finished mask production lines, expressing gratitude towards the machine tool firms that completed such an impossible task.
Mission Impossible: 60 Production Lines in 25 Days?
However, as machine tool firms lack the expertise of producing mask-making equipment, TMBA Chairman Hsu Wen-hsien, Honorary Chairman Yen Jui-hsiung and PMC General Manager Lai Yung-hsiang set up talks to discuss assisting the MOEA to expand production lines. The plan was to shorten the timeline of producing and assembling mask machines from half a year to only one month, a feat that was considered impossible.
After compiling the needs from equipment providers and TMBA's resources, TMBA Chairman Hsu name the main three demands from machine tool industry members: the first being personnel support for assembling the mask-making equipment. The type of personnel also includes talent in electronics and electrical control to assist in power distribution, assembly and tuning. Secondly, the machine tool factories have first priority to process and resolve material shortage should they run out of materials during the production process. Lastly, once the machines are delivered, the machine tool industry will continue to offer support once production has stabilized, in consideration of a successful handover as well as eliminating any human errors.
Commenting on delivering the mask-making machineries ahead of schedule, TMBA Chairman Hsu said that European and Japanese firms all expressed disbelief: "it's impossible to deliver ahead of schedule." Foreign companies didn't believe that it was possible to finish producing 60 production lines in 25 days, even if Taiwan was able to deliver, Hsu said. When those European and Japanese firms inquired about Taiwan's success, Hsu invited those firms to visit the island in the future to see for themselves.
The government requested for more production lines at the end of February as the pandemic worsened, making up a total of 92 production lines. All of them began operations on March 20, bolstering the country's production capability to 15 million masks daily. Taiwan's successful handling of the COVID-19 pandemic launched the country back into international spotlight, and proved to be a "beacon of hope" for the industry in Advantech board director Chaney Ho's eyes. Ho suggested that Taiwan should consider offering a complete package of the mask-making production line to potential buyers, from raw materials, film, meltblowing equipment and other equipment, as well as inspection gear and processes. "The entire standard operation of mask making know-how, package plant export, are entirely a huge business opportunity for Taiwan's industry development, especially for the precision machinery industry."
Package Plant Export: The Industry's New Hope
While Taiwan's machinery industry total output topped NT$1 trillion in 2017, due to the impact of the trade war between China and the U.S., firms that had the ability to do so quickly sped up its plans to implement smart manufacturing and smart machinery capabilities. A "package plant export" not only exports the machinery, including the primary equipment, but also the know-how to operate, maintain the machineries, essentially the packaging of the experience and product, services and technologies as a solution. Other characteristics of package plant export show it as a complex and time-consuming delivery process, as it includes tangible and intangible items to deliver to the client.
Singapore's 3M factories implementation of its N95 mask production lines was a case study of package plant exporting, showcasing three factors led to setting up a factory in the Southeast Asian hub: high security protection, a prime location as a global supply chain, as well as abundant local talent. The fight against the virus is often likened to military warfare, therefore the idea that mask materials have become as important as warfare resources isn't entirely outlandish. While Taiwan has donated masks, PMC General Manager Lai revealed during a livestream with Advantech, that the U.S. and Canada both received mask production equipment from Taiwan. As mask production chains in those countries were already broken, Lai pointed out these countries "didn't just want the equipment, but to rebuild the production chain locally." Domestic firms should take advantage of this opportunity to improve their businesses, including implementing smart machinery into the package solutions. Smart features would include the visualization of data from the production lines and implementation of IoT for Machinery. "We can assist firms to set up the new features, and once domestic firms have trained up the necessary personnel, they could promote the solution globally. Package plant exporting is clearly a critical support measure," Lai said.
Developing Taiwan's Manufacturing Industry Amid COVID-1
Hiwin Education Foundation Director Cho Yung-tsai believes that "a country's economy is built upon its manufacturing prowess" and that "precision machinery is especially the foundation of the manufacturing industry and a society's stability." This COVID-19 pandemic has once again, proven the importance of manufacturing. After the ban on mask exports was lifted in early June, firms can continue to sell locally and overseas. Members on Taiwan's "national mask-making team" have expressed excitement, emphasizing Taiwan's consistent quality and general positive feedback from overseas markets. An example of the trust in Taiwan's firms: several mask-making firms saw overseas clients order over a hundred thousand boxes of masks in one go.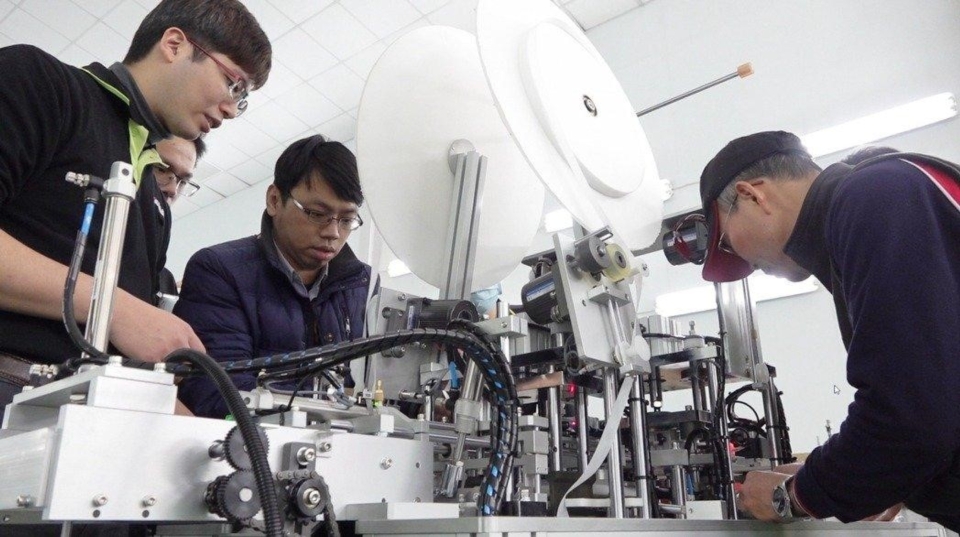 Caption: Taiwan's machinery industry, talents, corporate values and production standards show great potential.