Global chip resistor maker Walsin Technology reported a possible COVID-19 infection within its Malaysian ranks on Tuesday and could cease plant operations for three weeks, impacting sectors like automotive and consumer electronics.

Walsin Technology's possible outbreak would be the second among IC makers. Competitors such as Yageo, Tai-I, and Chilisin are eyeing transferred orders out of Walsin.

Walsin Technology is a subsidiary under the Walsin Lihwa Group, handling the world's second-largest producer of chip resistors, just behind Yageo. The third-largest is 100%-made in Taiwan, Tai-I. Industry watchers say with the increased demand for electronics for remote work; chip resistors are already in short supply. Walsin's Malaysian factory halting operations could prompt orders transferred to other firms to meet demand.

Factory-wide testing will yield results as fast as three days, Walsin commented, and will apply for work resumption grants from the government should the results prove negative. The firm said operations and delivery would not be affected.

Walsin's acquired its factory in Malaysia after buying into Japanese firm Kamaya Electric's plant there. Production lines primarily handle resistors for automotive and consumer electronics applications, making up around 30% of the firm's total production capability. Impacted products include industrial-grade resistors, 0201 and 01005 resistors, and high-power resistors.

While the resistor-maker had assured clients that they would resume operations as soon as possible, manufacturers have had issues with recruiting, making it difficult to maintain and increase production at a moment's notice.

Market Observes Potential Impact

Yageo said the firm has orders lined up before Chinese New Years', citing strong demand and low inventory. While it's currently hard to say about the economy in the latter half of 2021, Yageo believes the industrial production chain departure from China is permanent and will benefit them. Chilisin, on the other hand, pointed to an extended delivery period due to the delay; for example, delivery clarity has been prolonged from one to two months to three months, while delivery dates have been pushed back to eight to ten weeks.

Out of the top IC firms, industry watchers believed Tai-I would benefit the most from Walsin's delay, as its production is all based in Taiwan. Tai-I has commented that while Q4 is a traditionally slow season, the current situation has presented order clarity for two to three weeks. With monthly orders for clients, the firm sees around 80% usage of total production capabilities.

Regarding the future trends of chip resistor designs, Yageo pointed out it would continue to roll out smaller network resistors and precise LRC, citing the three products as the fastest-growing segments in the electronics industry.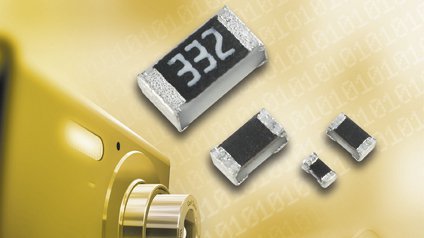 Photo credits: UDN/Yageo