Taiwan Association of Machinery Industry (TAMI) announced export figures for machinery equipment in the past two months on Wednesday, boasting USD$4.718 billion in export value, a YoY 25.4% increase. In New Taiwan dollars, that would be 134.07 billion, an 18.7% growth.

TAMI reported that suppliers' order visibility now lies in Q3, signifying a strong rebound in the market. What's critical is that, despite fewer workdays in February due to long holidays and a shortage of global containers, machinery equipment orders in February amounted to US$2.047 billion, a YoY 16.8% increase, continuing to mark a sixth-month consecutive growth since September 2020.

TAMI Chairman Alex Ko said with the strong performance from the industry, and equipment demand would continue to grow. Domestic production chains have also helped fuel performances, Ko said, estimating that the overall sector could see industry value amounting to USD$1.2 trillion. Export value could see the chance to exceed USD$30 billion, representing new heights for Taiwan's machinery industry.

In the first two months of this year, the top three machinery export values ​​were: Inspection and measurement equipment at USD$682 million, accounting for 14.5%, a YoY increase of 42.3%; electronic equipment at USD$628 million, accounting for 13.3% and a YoY increase of 22.9%; machine tools were US$374 million, accounting for 7.9%, a rise of 12.7% over the same period last year.

The top three exporting countries in the previous two months were China (USD$1.417 billion), accounting for 30.0%; the U.S. (US$1.025 billion,) accounting for 21.7%; and Japan at US$317 million, accounting for 6.7% of overall destination countries.

Ko pointed out that in the top 10 product categories performing the best in February, power transmission parts increased by 53.9%; power hand tools and machine tool components also increased by 42.5% and 41.9%, respectively. After a substantial increase of 23.2% in January, machine tools showed a slight decline of 0.6% in February, while the lifting and conveying equipment declined by 20.4%.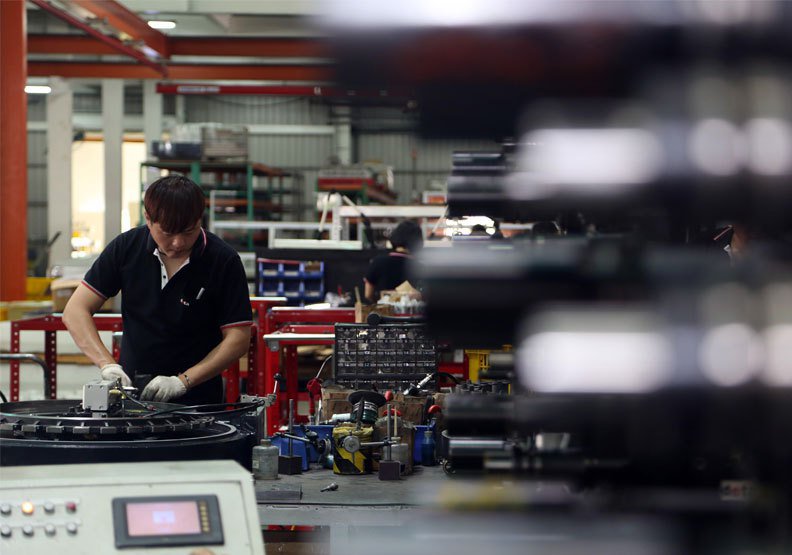 Photo credit: UDN