New TAMI chairman elected, promises greater industry-academic rapport
2021/03/25 | By CENS
The Taiwan Association of Machinery Industry (TAMI) assembly elected its 29th chairperson and board members on March 25, seeing outgoing chairman Alex Ko handing over the mantel to the new chairman, Fong Kee International Machinery Co., Ltd. Chairman Wei Tsan-wen.
Ko said under President Tsai Ing-wen's support, the administration included the smart machinery sector in the "5+2 Innovative Industries Plan," an economic platform to bolster seven projects and industries.
The machinery industry met expectations, with the sector achieving USD$25.6 billion in export value in 2017. It also surpassed the trillion-industry value mark, hitting the NTD$1.1 trillion-goalpost and becoming the third trillion-valued industry in Taiwan.
Thanking the previous leadership, the newly-elected chairman Wei lauded the now-honorary chairman Ko's six-year term that saw the association's internal affairs and management's revamping of external issues. Wei said he would be continuing on the projects of his predecessor and mainly concentrate on furthering industry and academic partnerships, specifically in smart machinery and smart manufacturing. Industry experts have pointed out that while Taiwan's sectors maintain huge potential, the talent shortage for relevant job positions requires more proactive methods between the industry and academic institutions to bridge the knowledge gap.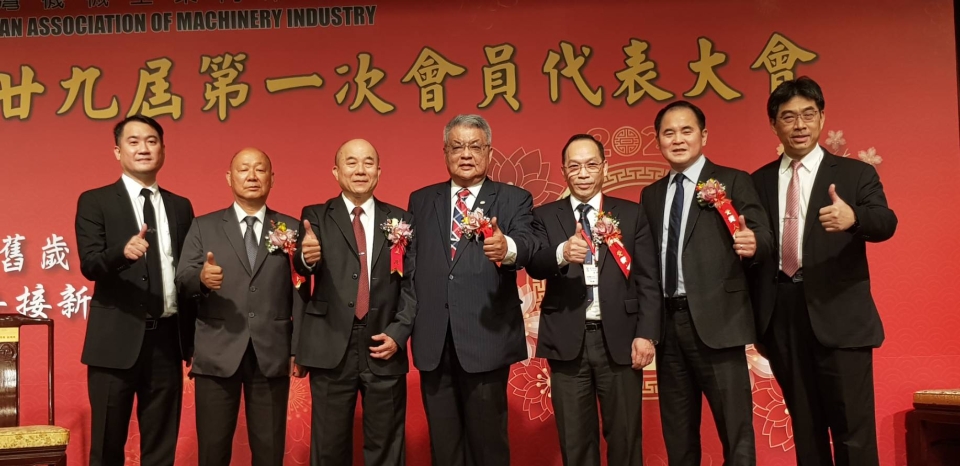 The newly elected 29th chairman and board members pose at the Taiwan Association of Machinery Industry assembly. (Photo courtesy of UDN)