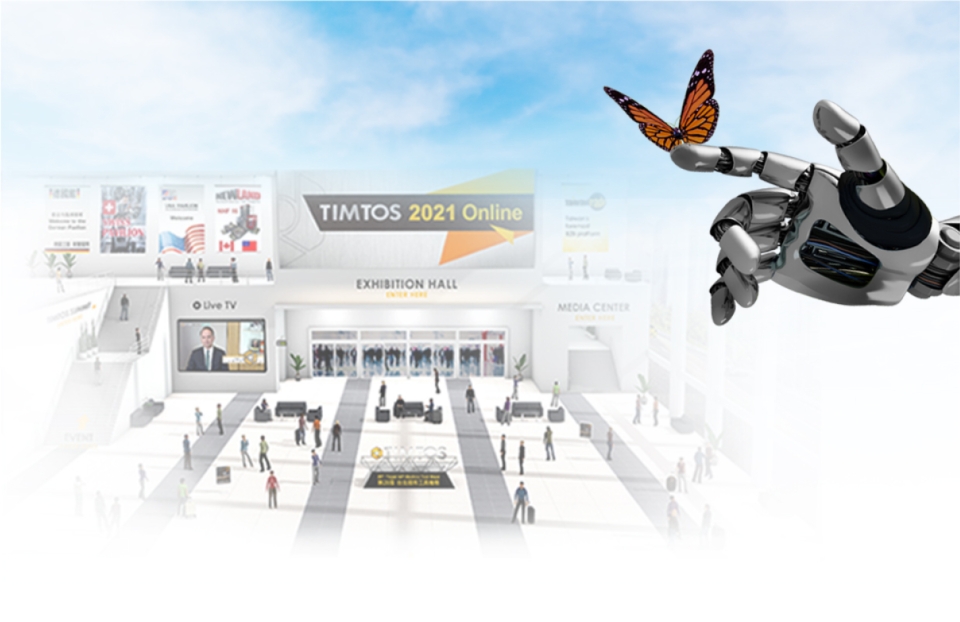 Industry-acclaimed expo TIMTOS 2021's online version gained over 120,000 visits during the six-day exhibition period since March 15, show organizer Taiwan External Trade Development Council (TAITRA) reported.
TIMTOS 2021 Online interactive mode, which allows buyers to connect with exhibitors, wrapped up on March 20, though the online platform will continue to be up until April for viewing only.
According to TAITRA's data, visitors from 58 countries had partaken in the show's online events, coming from the top five countries, including India, Japan, Vietnam, China, and Turkey. Popular products were five-axis vertical machine tools, CNC lathes, turning and milling composite lathes, collaborative robots, rotary tables, and automatic sanding belt grinders.
The machinery and machine tool industries were among the hardest-hit sectors last year, though once the world began reopening with vaccine rollout, both quickly rebounded as demand surged.
Outgoing Taiwan Association of Machinery Industry (TAMI) Chairman Alex Ko named the ongoing China-U.S. trade war as a crucial factor that bolstered the machinery sector earlier this month. Many factories were moving out of China, coined the world's factory, while others were also searching for their second production hub. The pandemic shed light on how a disrupted interconnected global supply chain that relied heavily on just-in-time production could wreak havoc across the world.
As a result, many companies have redirected their overseas production back to their home countries, buoying increased equipment demand. Ko expects the machinery industry value to reach USD$1.2 trillion this year, while export value could hit USD$30 billion. These promising figures have led Ko to regard the upcoming decade as pivotal to Taiwan's machinery industry.
Machine Tools See Similar Boost
For machine tools, the domestic sector sees an improving outlook and increasing short-term, urgent orders volume, prompting sector experts to revise export figures this year.
Taiwan Machine Tool and Accessory Builders' Association (TMBA) Chairman Hsu Wen-hsien highlighted the sudden increase of orders has factories loaded to capacity for Q2. The association met earlier in March to revise the industry export's outlook from 15% growth to 30%
Hsu said orders mainly come from semiconductors, 5G applications, AI, consumer electronics, PCB, and automotive fields. Whether the momentum can continue into Q3 and Q4 will depend on the global vaccine rollout, Hsu said, expressing an overall positive outlook for this year.
New TAMI Chairman Elected
TAMI assembly elected its 29th chairperson and board members on March 25, seeing outgoing chairman Alex Ko handing over the mantel to the new chairman, Fong Kee International Machinery Co., Ltd. Chairman Wei Tsan-wen.
Ko said under President Tsai Ing-wen's support, the administration included the smart machinery sector in the "5+2 Innovative Industries Plan," an economic platform to bolster seven projects and industries.
The machinery industry met expectations, with the sector achieving USD$25.6 billion in export value in 2017. It also surpassed the trillion-industry value mark, hitting the NTD$1.1 trillion-goalpost and becoming the third trillion-valued industry in Taiwan.
Thanking the previous leadership, the newly-elected chairman Wei lauded the now-honorary chairman Ko's six-year term that saw the association's internal affairs and management's revamping of external issues. Wei said he would be continuing on the projects of his predecessor and mainly concentrate on furthering industry and academic partnerships, specifically in smart machinery and smart manufacturing. Industry experts have pointed out that while Taiwan's sectors maintain huge potential, the talent shortage for relevant job positions requires more proactive methods between the industry and academic institutions to bridge the knowledge gap.