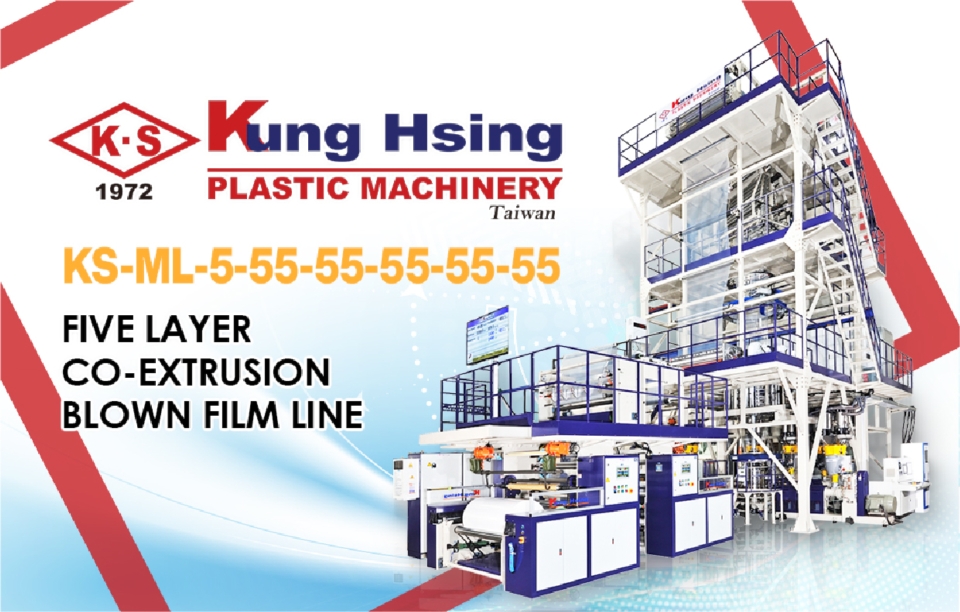 Addressing a number of industry trends, namely, film blowing machinery progressing into more advanced equipment and ultra-large sized machinery, Kung Hsing Plastic Machinery is future-proofing its business to ensure that they meet domestic and international clients' demands for better quality and improving product reliability. The company continues to be dedicated to manufacturing high-performing and high-producing equipment.
Kung Hsing recently held a groundbreaking ceremony for its newest "high-end smart manufacturing factory" (Kung Hsing 3rd Plant), hosted by Chairman Tsai Chin-lien. The new factory will sit on land around 2,000-ping, modeled with high-ceiling designs in its smart-capable facilities. Special guests and many of Kung Hsing's long-term partners attended the ceremony.
With its 47-year-experience in designing and manufacturing equipment, Kung Hsing has become an essential hub by incorporating technology, energy-saving, environmentally friendly, and smart elements into its business model. The company markets to around 130 countries worldwide, with a presence across five continents, reducing individual countries' impact with weaker economic performances.
The company currently primarily produces three-layer and five-layered high-end large-scaled models. Since its inception, Kung Hsing has dedicated its foundations to upholding integrity, making high-quality machinery for its clients, and offering the most comprehensive services.
Reflecting upon his experience, Tsai said he'd always been cautious and attentive regarding his management style. He also attributed his growing successful business to his faith in religion. From a small company to managing a company with three operating plants, Tsai believes the society had contributed much to his success and hopes to give back to the community through charity. In terms of his contributions through religious charity, Tsai had donated land or funding as means to give back. Vice-Chairman Tsai Kuen-lin pointed out that aside from the groundbreaking of their newest plant, the company had also begun increasing its production lines back in 2020. This would allow the company's R&D team to have better leverage in producing high-quality, affordable products under its self-managed brand "K.S." Vice-Chairman Tsai said the company is looking to use K.S. to compete with European markets, for example, and to reinforce the "Made in Taiwan" brand.