The 2021 Taipei International Computer Show (COMPUTEX TAIPEI 2021) kicked off its #COMPUTEXVirtual online exhibition on May 31, peppering online keynote events throughout the one-month event.

Intel Executive Vice President and Chief Revenue Officer Michelle Johnston Holthaus led the opening keynote speech, sharing how the rapidly accelerating digital transformation can release a new era of innovation at the moment when the world is most eager for innovation.

ARM CEO Simon Segars discussed how technology could inspire the world after the COVID-19 outbreak. Segars drew on ARM partners as an example, that achievements from tech companies amid the economic recovery illustrate how important it is to create a safe and sustainable future.

For the first time, COMPUTEX 2021 peripheral events were all transferred online, serving as a leading example for technology manufacturers to advance in the digital age and creating a technology ecosystem of mutual prosperity, as quoted by the event organizers' press release.

In his opening ceremony remarks, TAITRA Chairman Huang said COMPUTEX was created in the 1980s just when the technology industry took off. At that time, Taiwan had joined hands with global entrepreneurs to pursue disruptive innovation and build a strong supply chain for the Internet and digital economy.

He pointed out that even after a year of the COVID-19 outbreak, technology continues to move forward in the new normal and Taiwan still stands at the center of the global technology ecosystem.

The opening keynote speech of COMPUTEX 2021 was hosted by Intel Executive Vice President and Chief Revenue Officer Michelle Johnston Holthaus. With the theme of "Innovation Unleashed," about the sustainability awareness of enterprises under the raging global epidemic, and continues to work with partners to promote digital transformation. Intel stated that it not only responds to global market demands quickly and flexibly through the IDM 2.0 business model, but also continues to promote innovation with 5G and its open architecture. Intel also took the opportunity to announce the launching of new products.

ARM CEO Segars's keynote speech, titled "Inspiring the Potential of the World's Recovery After the Epidemic," discussed how they were using technology to ensure a safer and more sustainable future, citing long-term R&D as the key to do so.

COMPUTEX 2021Virtual targets six major themes: 5G, artificial intelligence and the Internet of Things (AI & IoT), edge computing (Edge Computing), high-performance computing (HPC), gaming (Gaming), innovation and innovation (Innovations & Startups), invites technology companies to display the solutions that companies are most concerned about online.

The one-month online event rundown includes #COMPUTEXVirtual online exhibition, COMPUTEX CEO Keynote event, COMPUTEX-themed keynote events, and COMPUTEX & InnoVEX Forum. Most notably, is the COMPUTEX video procurement conferences allowing participants to not only directly connect with global leaders and get into talks with potential customers.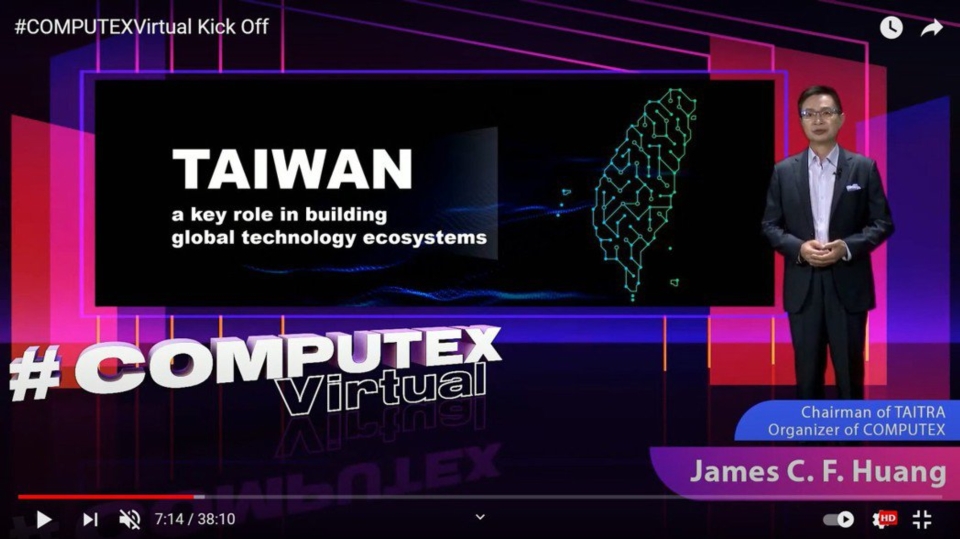 Photo courtesy of TAITRA