The Industrial Technology Research Institute (ITRI) IEKCQM, having reviewed the political and economic situations at home and abroad, released its report for Taiwan's manufacturing 2021 forecast on Thursday.

ITRI predicted the manufacturing output value this year will hit TWD$20.92 trillion, and the output value growth rate will be 10.03%. All industries are showing positive growth, among them, the metal electromechanical, information electronics, and chemical industries are expected to achieve double-digit growth.

As Taiwan is currently experiencing its own local outbreak, ITRI observed the impact would be limited on the domestic manufacturing industry, though warned that companies should still prioritize future-proofing their production capabilities with smarter and more innovative solutions against supply chain destabilization events such as the COVID-19 pandemic.

ITRI's IEKCQM forecasting team pointed out that most countries have successively launched vaccination plans and are gradually moving towards the new economic normal.

With the support of large-scale revitalization policies in major economies, the global economic recovery has been stronger than expected. Although the trend of the epidemic is still uncertain, international manufacturing activities have gradually resumed, along with the uptick of expanding production and trade.

Driven by the strong rebound in international demand, the restructuring of the global supply chain, and the benefits of transferring orders, Taiwan's export performance in Q1 was noteworthy. With a low base period, the annual growth rate reached 24.6%, the largest single-season growth rate in 10 years.

The island's most severe outbreak has emerged since mid-May, bringing certain pressure on economic growth. Fortunately, at this stage, manufacturing production activities continue, and exports and export orders are still booming, ITRI's IEKCQM team reported. It is expected that the impact on Taiwan's manufacturing industry will be limited. Factors such as long-distance office/education/entertainment, housing economy, business opportunities for emerging technology applications, emerging industries, and accelerated deployment of smart machinery and green energy technology, and also support from the government economic relief and revitalization measures, ITRI expects growth performance in the manufacturing industry to be promising this year.

ITRI IEK Director Su Meng-zhong said that although the global epidemic is showing signs of slowing down thanks to vaccination efforts, experts consider the global community would still need another one to two years to reach herd immunity.

As the changes resulting from the epidemic have become the "new normal," Su said digital lifestyle and digital governance will be used to shape a smarter environment and a new industrial landscape in the upcoming years. Su cited reports that the world has nearly doubled its implementation of digital transformation, while Taiwan's growth rate is about at only 30%.

He warned that Taiwan must step up its efforts to build a smart and convenient ecosystem, such as combining consumers, professional service providers, platform operators, and product producers, to accelerate the development of a socially distanced economy.

ITRI IEK laid out its predictions for major sectors in the manufacturing industry, citing a strong international demand as the most significant driver for its growth this year.

Metal electrical machinery: As the world restarted the global economy, China has expanded investment in new infrastructure, prompting a wide scale of international steel demand. The World Steel Association (WSA) estimates that global steel demand will reach 1.874 billion tons in 2021, a growth of 5.8%. Strong international demand presented positive growth to Taiwan's base metal and machinery and equipment industries, in terms of export orders and export volume. In addition, the extension of government subsidies for car purchases has triggered the best sales record in the local auto market in the past 15 years. ITRI estimates the output value of the metal electrical and mechanical industry will grow by 10.15% in 2021, reaching NT$5.67 trillion.

Information Electronics: Long-distance business opportunities, continued strong demand for the at-home economy, continuous application of emerging technologies such as 5G, AIoT, and high-speed computing, and the launch of new products from major international consumer electronics manufacturers have driven global electronic products shipments. Affected by the rush of suppliers and retailers to replenish inventory, the supply of products in the information and electronics industry is still in short supply, though rising quotations are beneficial to the industry to increase profits.
At this stage, Taiwanese suppliers have updated their production lines and installed new production lines to further the utilization rate. Impacted by the restarting economy and the previous order transfer effect, ITRI estimates the output value of the information electronics industry in 2021 will grow by 11.49% to NTD$8.55 trillion.

Chemical industry: Demand for oil products had been surging as the economic situation improves. The Organization of the Petroleum Exporting Countries and the allies (OPEC+) have moved to reduce production agreements to ease market inventories. The U.S. Energy Information Administration (EIA) had also updated its 2021 forecast for international oil prices from USD$47 to USD$62. Global consumption is picking up, at-home economy is surging, while the demand for personal medical protection equipment continues to be strong, ITRI reported. Consumption patterns such as online shopping and gig-delivery platforms have taken shape, making the increase in demand for petrochemical products good news for the industry as a whole. Together with the increase in chemical product quotations, the expected output value for Taiwan's country's chemical industry is forecasted to grow by 12.5% ​​to NTD$4.20 trillion.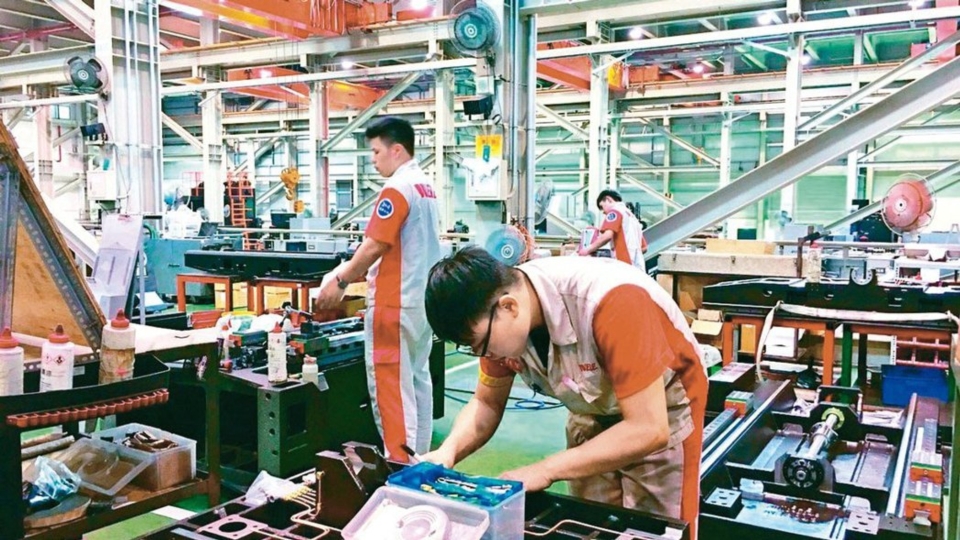 Photo credit: UDN file photo