Material shortages
Taiwan Machine Tool & Accessory Builders' Association (TMBA) Chairman Hsu Wen-hsien has named shortages in the machine tool industry as the biggest concerns that could impact the sector's revitalizing efforts in the short term, according to media reports on Thursday.

The machine tool sector was booming from orders coming in during the latest three quarters, however, Hsu pointed to shortages in material, water, electricity, labor, and vaccines, as the major factors impeding the machine tool industry from making a full recovery. Suppliers fear the shortages would exacerbate the situation, and prompt orders transferring away.

In a report to the Economic Ministry describing the situation, TMBA had said with vaccinations rising around the world, the recovery for various industries highlight positive expectations. Markets in Europe and the U.S. have rolled out aggressive economic stimulation initiatives, while China has been seeing a sharp rise in demand for automobiles, prompting an increased need for machine tool equipment.

Moreover, the report also named the U.S. President Biden's latest infrastructure project, which proposed a USD$6 trillion budget to invest in the upgrading of national infrastructure, setting a record for the highest public investment since World War II.

China has also expanded its "new infrastructure" project scope, which estimates that between 2021 to 2025, it will invest RMB$10.6 trillion (approximately NT$45.9 trillion) in seven major technology fields, including: 5G base station construction, electric vehicle (EV) charging, and large data centers, artificial intelligence (AI), ultra-high-voltage power grids with high-efficiency transmission and large-capacity, inter-city high-speed railways and urban trams, and industrial Internet.

Hsu pointed out that domestic machine tool manufacturers have benefited from the economic revitalization business opportunities after the epidemic, and overseas orders have subsequently exploded in volume. On average, orders have been filled up to the third quarter, while other suppliers are seeing orders backed up into Q4. Some manufacturers' orders mainly hail from China, the U.S. Turkey, Russia, and other overseas markets.

It is worth noting that although the machine tool industry orders have risen sharply and prompted full manufacturing capacity in the first half of this year, the export value of the first two quarters is also expected to grow by 25% to 30%, but due to serious shortage of materials, some manufacturers have stopped accepting short-term orders.

TMBA's survey found that although there is no shortage of raw materials including copper, aluminum, cast iron, alloy steel, iron ore, etc., procurement costs for these raw materials were the main culprit, prompting longer delivery periods

COVID Impact

Amid Taiwan's latest COVID-19 outbreak, domestic chip factory King Yuan Electronics reported a total of 45 positive cases in three days on Thursday, with the majority coming from migrant workers. The company provides packaging and testing for integrated circuits.

Health Minister Chen Shih-chung had said the situation was not looking good, as he acknowledged the scope of the outbreak could quickly mushroom in size.

The outbreak has drawn attention to the situation among migrant workers, the bulk of the labor force in chip factories in Hsinchu and Miaoli. Companies have told the media that migrant workers are often ferried around between factories to work, citing worker shortages due to the pandemic and border control.

These migrant workers are then taken back to their dormitories, highlighting concerns towards these areas becoming virus hotspots. Companies have urged government intervention and guidance.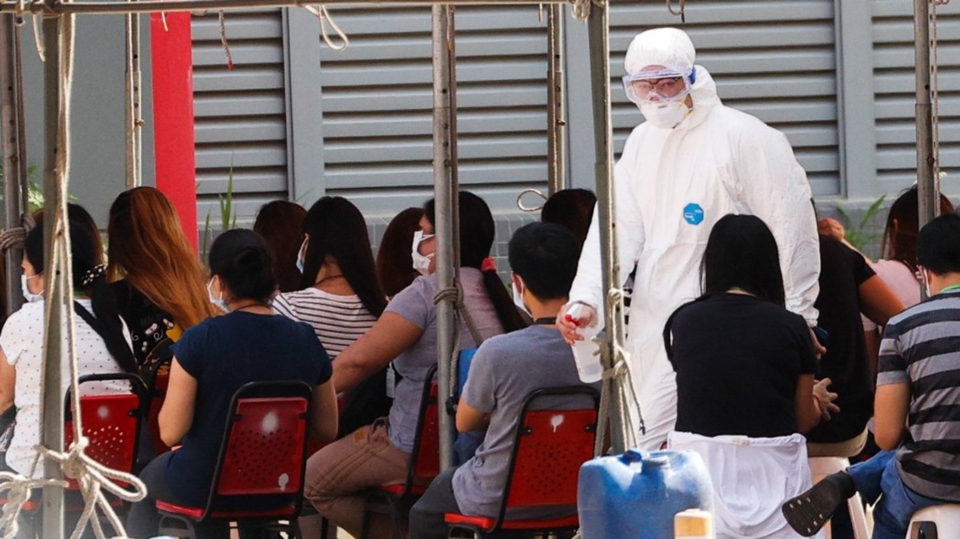 The photo of King Yuan Electronics Corp. facility workers awaiting to take their COVID-19 tests had ignited concerns over the lack of social distancing, prompting the government health department to step in. Photo courtesy of UDN.