Forwell Precision Machinery Co., Ltd. focuses on developing automatic quick die/mold change systems for entire factory floors. The firm has rolled out innovative and mature automation equipment for machine tools and machinery for plastics since 1987, intending to improve efficiency, reduce work labor, and offer safer working environments.
Forwell's expertise in producing quick mold change systems has benefited its real-life application know-how, including fields in stamping, forging, die-casting industry, metal cutting, plastic injection, tire industry, as well as plastic and rubber raw material factories, which Forwell has worked in by offering customization services for clients. Data on Forwell's quick mold change systems shows they can shorten a mold change, 30-minute-long operation, to only 3 minutes.
The biggest feature of Forwell's quick mold change system is its modular design, which makes it easier to change, maintain, and upgrade parts, allowing the firm to offer long-term factory operations, easy maintenance, upgrades, and quick processing adjustments to its quick die/mold change systems, die/mold cart systems, and die/mold storage systems. Forwell can still offer repairs and upgrades to products that were bought by clients 30 years ago, an unparalleled advantage for manufacturers as it allows them to offer sustainable services to their clients.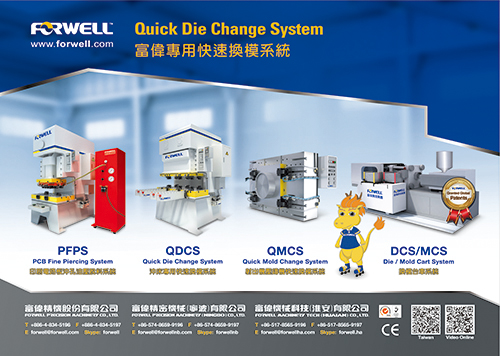 Forwell Precision Machinery Co., Ltd.
No. 399, Mingsheng Rd., Sec. 2, Pusin Township, Changhua County, Taiwan 513
Tel:886-4-834-5196
Fax: 886-4-834-5197
Email: forwell@forwell.com
Website: www.forwell.com