From Mechanization to Automation: VietnamWood Leads the Way
2023/09/15 | By CENS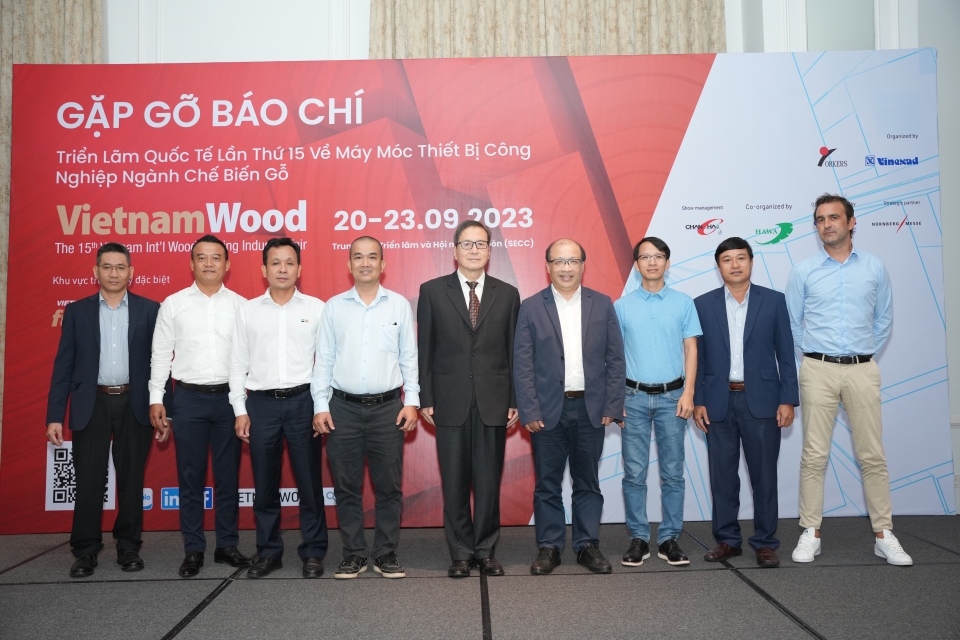 Amidst the resurgence of the U.S. economy in the latter half of the year, the construction industry is experiencing a renewed demand and is poised to revive Vietnam's woodworking market. In response to this upbeat industry trend, VietnamWood has convened over 320 exhibitors from 28 countries and regions to present the latest woodworking product lines and engage in various curated events and activities. Furnitec, the Vietnam International Furniture Accessories, Hardware & Tools Fair, will join hands for concurrent showcasing. The trade fair is scheduled at the Saigon Exhibition and Convention Center (SECC) from September 20 to 23, 2023.
Ms. Judy Wang, the President of VietnamWood organizer, Yorkers Trade & Marketing Service Co., Ltd., said, "VietnamWood, a longstanding international platform in the Vietnam woodworking industry, has evolved with the sector from mechanization to automation and digitalization. Our current emphasis is on Smart Factory Solutions, moving beyond individual machine upgrades to integrated production line solutions, reducing product defective rates, and boosting overall production efficiency."
With a strong focus on the national digital transformation over the past few years, VietnamWood will showcase over 320 exhibitors from 28 countries and regions this year; comprehensive Automatic Production Line and Wood System Integration will be showcased on-site for driving the transformation and upgrading of the Vietnamese woodworking industry. In addition, the exhibition will feature eight themed pavilions, including Austria, Canada, China, France, Germany, Italy, the U.S.A., and Taiwan, providing a platform for Vietnamese businesses to interact and exchange ideas on perspective technological developments.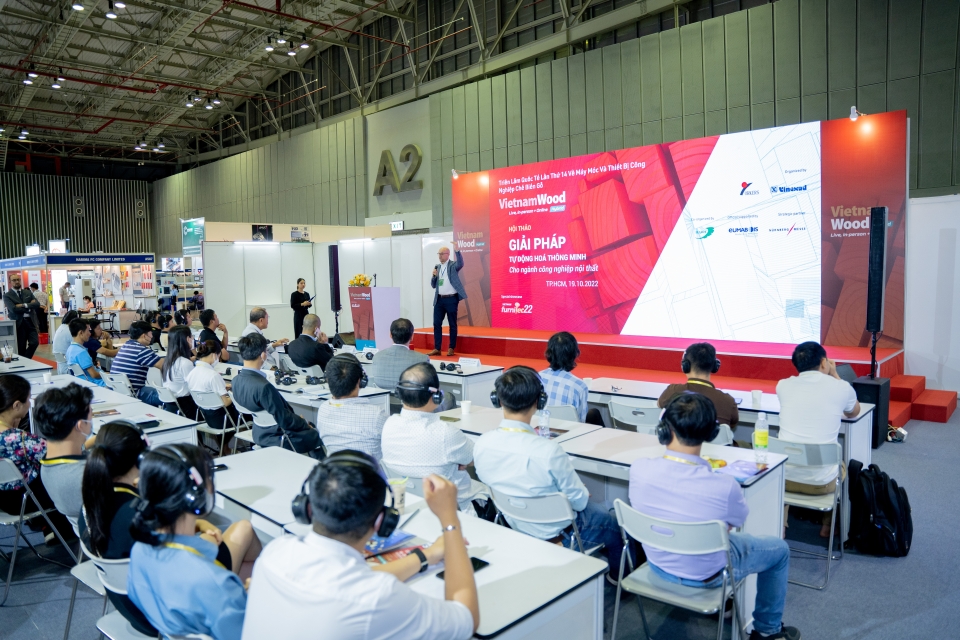 §From Mechanization to Automation: VietnamWood Leads the Way
Vietnam, the world's fifth-largest exporter of wooden products, has a substantial demand for woodworking machinery and components. VietnamWood, the premier woodworking industry exhibition in the country, goes beyond featuring advanced international technologies. It also offers a comprehensive showcase of woodworking machinery, equipment, raw materials, and essential consumables. The exhibition's highlights encompass primary and secondary processing, surface treatment, furniture fittings, hardware, locks, and accessories.
Exhibitors span various supply chain sectors, offering a wide array of top-quality products, services, and solutions. Prominent brands in attendance include:
• SHODA─ nearly a century of history and the pioneer of Japan's first C.N.C. router; 
• DIEFFENBACHER─150+ years of trusted leadership in wood-based panel plant manufacturing;
• WEINIG─ offer integrated services, from concept to system design, order processing, and production support;
• SCM GROUP─ leading expertise with the broadest range of solutions available in the woodworking sector;
• BIESSE─ a master of materials, creates integrated machinery for wood and composites;
• NANXING MACHINERY─ providing equipment and total solutions for panel furniture production;
• VETTA─ Vietnam's largest brand distributor, including FREUD, PADE, CEFLA, SCHÖNE, etc.; 
• LEADERMAC─ as a world-class 4-sided molder manufacturer;
• THUAN HIEN─ Provide a production line for turning recycled materials into pure pellet tablets;
• KUANG YUNG─ quality system complies with ISO-9001; most sawing machines are CE-certified.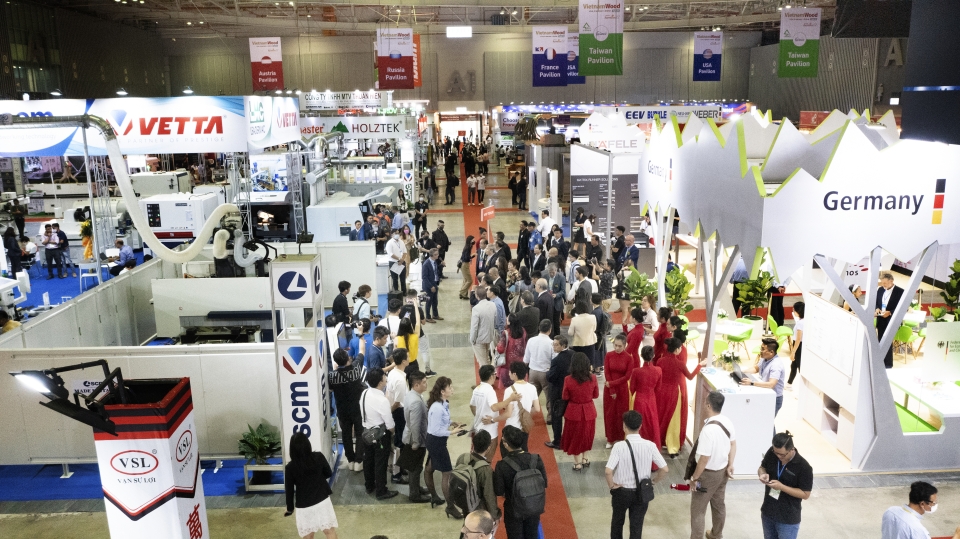 §Tech Sharing to Live Experiences –Multifaceted Journey!
The upcoming livestream event and wood technology seminar series will focus on four key issues that are currently affecting the wood processing industry. These issues include proactive export products with simple operation, green factories that are working towards carbon neutrality, equipment health that is maintained through smart maintenance, and EUDR and green supply chains. The event aims to showcase the latest technologies from Taiwan and provide a valuable foundation for major wood variations in Vietnam to update information on trends and new art technologies. The workshops will feature live demonstrations accompanied by practical solutions from participating galleries. These workshops will also introduce the right time to convert and upgrade factories, particularly in light of the many changes in the industry and legacy products. 
Furthermore, the event will provide attendees with casual, interactive activities, including limited-edition canvas bag serigraphy, a themed photo wall, and refreshment stations. These elements introduce a touch of informality within the context of formal B2B business interactions, facilitating more significant networking opportunities for domestic and international companies.
VietnamWood is organized by VINEXAD (Ministry of Industry & Trade - Vinexad National Trade Fair & Advertising J.S.C.) in collaboration with Yorkers Trade & Marketing Service Co., Ltd. It is co-hosted by the Handicraft and Wood Industry Association of Ho Chi Minh City (HAWA). The event is also supported by esteemed associations and strategic partners, including the European Federation of Woodworking Machinery Manufacturers (EUMABOIS), 
NürnbergMesse Group, Binh Duong Furniture Association (BIFA), Vietnam Association of Mechanical Industry (VAMI) and Vietnam Timber & Forest Products Association (VIFOREST).
For more information, please visit https://www.chanchao.com.tw/vietnamwood/or contact +84-28-3827-9156 / chantal@chanchao.com.tw