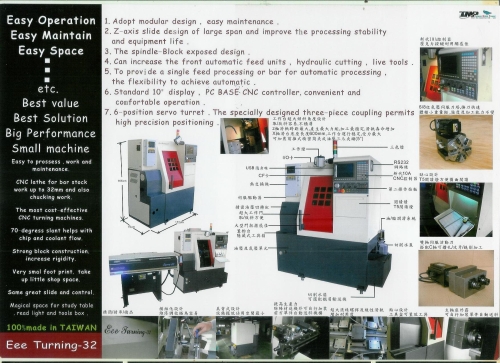 CNC Lathes
Model:

Eee Turning-32

Country of Origin:

Taiwan
Detail Specifications / Descriptions
1. Adopt modular design, easy maintenance.
2. Z-axis slide design of large span and improve the processing stability and equipment life.
3.70-degree angle of slider design, Very small foot print, takes up little shop space. Same great slide and control.
4.The spindle-Block exposed design, Can increase the front automatic feed units, hydraulic cutting moduleTo provide a single feed processing or bar for automatic processing, the real flexibility to achieve automation.
5.Spindle can be used for c-axis orientation
6. 6- position servo turret, The specially designed three-piece coupling permits high precision positioning. The turret disc does not move out to prevent chips and coolant from entering, while assuring high positioning accuracy, high power output, high rigidity and repeatability., 7.Standard 10" display, PC BASE CNC controller, convenient and comfortable operation.
8.Modular design with weights, so Eee Turning-32 have the smallest body and the most reasonable base machine weight, can be easily removed at the same time and equipment have an excellent stable condition.