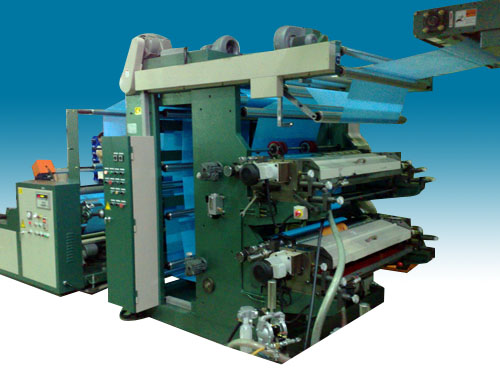 In-line 2 Color Flexo Printing Machine
Model:

LS-2F

Country of Origin:

Taiwan
Detail Specifications / Descriptions
* Color Flexible: 2+0, 1+1
* Max. Film Passing Width: 700mm ~ 1700mm
* Max. Printing Width: 600mm ~ 1600mm
* Repeat Printing Length: 250mm ~ 1000mm
* This is high speed type in-line printing press accordance with the extruder the maximum printing speed can up to 120M/min., enlarge the drying capacities, able to help customer to increase the production volume.
* 2 printing stations in the same way, convenience customer to check the printing quality and operating, machine can print one side 2 color combination, in-put with the dancing roller to control the films goes into the printing station very even and smooth with drying chamber ensure the printed pattern and color can be dried accordance with the high speed, continuously printing save the time and process for operation.