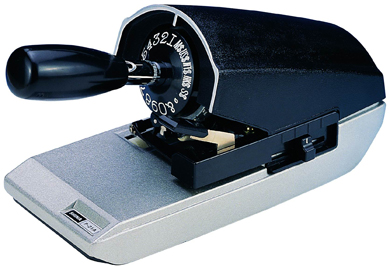 CW-100 CHECK WRITER, STATIONERY
Detail Specifications / Descriptions
Positive protect and forgery prevention
the dollar amount is shredded right into
the check to protect your checks and money.

• Dimension: 97W*235L*123H m/m
• Currency Wheel: 18 digital include 5
currency symbols.
• Weight: 1.65 kgs

Features:
• The Per-inked ball in available in either red
or black, providing permanent, uniform
impressions.
• Figures are made of a special alloy for long
life.
• Forgery proof-live indelible ink is shredded
into the fiber of the check paper.
• Vertical and horizontal positioning of the
impression area is easy with alignment
marks and margin adjustment lever.
• Made of high impact plastic, durability,
ease of cleaning and attractiveness
is assured.
• Over 20 different currency indicators and
wheel build-up available according to
purchasers requirements.

SERRATED SECURITY
Cast form a superior zinc alloy
material, the TATA type faces
include a deeply serrated
pattern which"mesh"with
a printing platen to drive
the dye based ink deeply
into your check. Within
minutes of impact, migration
of the ink begins. Ultimately
creating a"mirrored-image"
on the backside of the document.