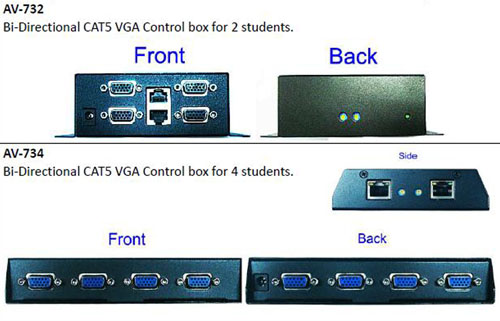 Bi-Directional 2/4-Port CAT5 VGA Extender for Computer Classroom
Model:

AV-732/734

Country of Origin:

Taiwan

Material:

Metal

Color:

Metallic black
Detail Specifications / Descriptions
The AV-732/734 is a simple, easy to install, easy operation, pure-hardware bi-directional VGA Extender designed for Computer Classroom application.
Utilizing the latest Cat5e UTP differential technology, it achieves crisp, razor sharp, real time video image interactive between Instructor and Students.
The system offers hardware Control Panel or Control Software to provide teacher powerful classroom management with Broadcast, Observe, Blank Screen, Student-Demo functions. These features allow teacher to focus on teaching and help students learn more and faster.
With the optional DigiStudio software, you may upgrade the classroom to Digital Language Lab System.